HTV produces reality game shows without live studio audiences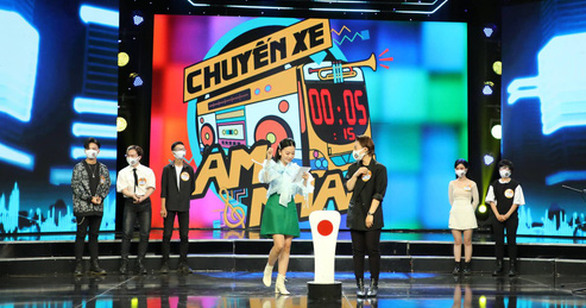 The fourth season of Chuyến Xe Âm Nhạc (Music Route), a music game show targeting students, began shooting last month without live audiences. Young performers wear a face mask and keep distance in the studio. (Photo courtesy of the producer)
By Thu Anh 
HCM CITY  Hồ Chí Minh Television (HTV) has produced a series of reality game shows without a live studio audience amid the social distancing period. 
Safety at filming studios has been prioritised, and crews are more flexible about their schedules.
The fourth season of Chuyến Xe Âm Nhạc (Music Route), a music game show targeting students, began shooting in May without live audiences. It features solo singers who perform in folk, pop, rock and hip-hop. 
The producer decided to use scenes featuring live audiences from previous seasons for this new season. The show airs every Thursday starting in June 3, and has attracted audiences who enjoy entertainment at home. 
"Due to the pandemic, we have to produce new programmes, but have given priority to scenes in outdoor areas without any people. In the studio, we have no live audiences," said Le Viet, producer of Music Route.
"We have worked to ensure our filming schedules and follow epidemic prevention regulations. In addition to masks and sanitisers for the whole crew, we have set up barriers and lines in studio to avoid crowds and help our staff and the show's participants," he added.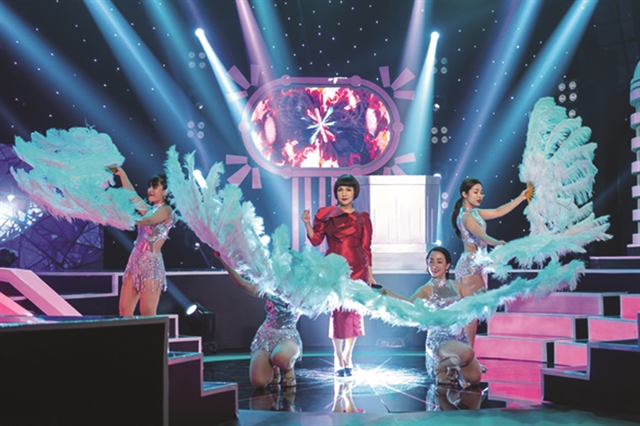 Hồ Chí Minh Television (HTV) has produced a series of reality game shows without a live studio audience to reduce the spread of COVID-19 since May 31. Photo courtesy of the producer
 Although entertainment centres, cinemas and theatres have been temporarily closed in HCM City, many TV crews have produced new content. 
Ở Nha Hat Ca (Singing at Home), a new music game show launched last week by HTV. People are encouraged to send a video featuring their voice to the producer. 
Nine candidates with the best voices, selected by the jury, will perform solo on television every month. Their performance will be filmed without a live audience. They also wear a face mask and keep distance in the studio. 
The top three winners will be voted by audiences who will send their vote by email or via the show's website. 
According to TV producer Bích Lien of Viet Nam Television, it has been more expensive producing a TV drama during the pandemic compared to other times. TV producers, their staff and peformers have had to work under pressure. 
"Many complex scenes with the participation of live audiences had to be postponed, which added to the cost of production," she said. 
Lien and her staff are working on San Chiến Giọng Hat (Singer Auction)  a new music game show featuring pop idols and talented singers. 
"My crew has been very supportive and has encouraged constant disinfection at the studio. Strangers are not allowed as well," she said. 
The Long An Province Radio & Television (LonganTV) has worked to produce the second season of its new TV drama programme about Vietnamese culture and lifestyle. 
It features 100 two-act plays written by the late musician and author Bắc Sơn, one of the region's leading artists in music, theatre and movies in the 1980s and 90s. 
"Our plays portray southern people and their culture. The lifestyle and characters of farmers living in Mekong River Delta provinces are also highlighted," said theatre actress Bích Thuỷ, one of the show's producers.
The first season introduced two plays, Đem Dai Như Biển (Long Night as the Sea) and Con Dế Men (A Cricket), starring veteran drama actresses Tu Trinh and Bích Thuỷ. 
The second season will attract cải lương stars such as People's Artist Bạch Tuyết and People's Artist Ngọc Giau. Young talents Nghi Tam and Bình Chinh will also be included. 
It is expected to air this month. VNS 
TAG: