French museum hosts exhibition on painter Mai Trung Thứ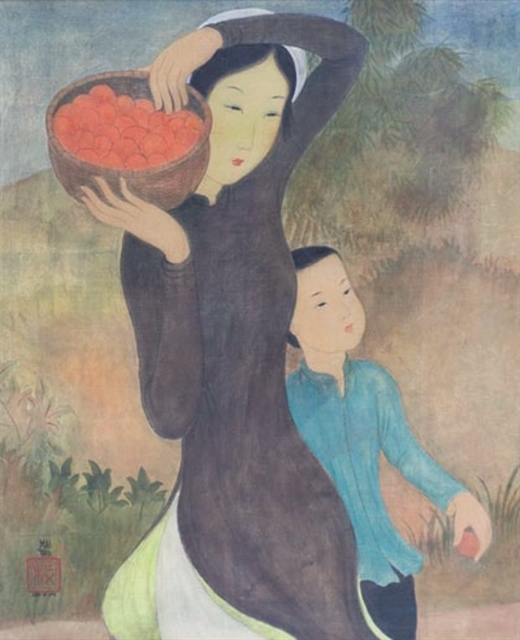 The artwork Mere et Enfant, panier de fruits (Mother and Child, fruit basket) by Mai Trung Thu. Photo courtesy of the exhibition
HÀ NỘI  The Ursulines Museum in France is currently exhibiting masterpieces by Vietnamese-French painter Mai Trung Thu, the first retrospective ever in Macon City.
The exhibition is running with the theme Écho d'un Vietnam Reve (Echo of a Dreamed Viet Nam) with support from the late artist's daughter Mai Lan Phương.
The museum has brought together more than 140 original works by the artist including oils on canvas, silk paintings, sketches, photographs and lithographs.
This is the first time a French museum has collected such a large amount of works of one of the leading painters of modern Vietnamese fine arts, allowing local viewers to discover a style imbued with poetry, where line and colour are used in scenes inspired by traditional Vietnamese life.
The exhibition is held thanks to Michele Moyne-Charlet, art conservator and director of the museum.
In 2017, she saw the artist's mural painting at Saint Pierre Church and she contacted the artist's daughter who lives in Grenoble City in the south of France.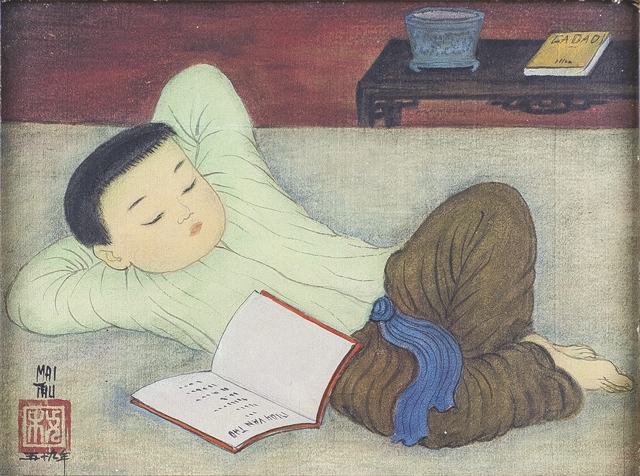 A painting by Mai Trung Thu. Photo macon.fr
Artist Thu (1906-1980), born in the port city of Hải Phòng, northern Viet Nam, was among the first graduates of the École des Beaux-Arts de I'Indochine (Indochina Fine Arts College) in 1925-1930. He was a painter whose works celebrated the innocence of Vietnamese rural areas.
After graduation, he taught at the Quốc Học High School in the royal capital city of Huế, where a series of his silk paintings focused on gentle local women, charming scenes by the Hương (Perfume) River and royal art and architecture.
During the 1930s, he and some other artists displayed paintings in Rome, Milan, Naples, Brussel, San Francisco and Paris. His participation in the International Exhibition of Decorative Arts in Paris in 1937 led him to settle down in France.
Thu stayed in Macon from 1940 to 1941.
"His skill on silk is unique," said Moyne-Charlet.
"He combined traditional and modern knowledge to form his typical characteristic and he was not impacted by any French artists.
"The exhibition has received numerous visitors to come. There are not many people in Macon who know the artist but I hope the exhibition helps them to get to know more of his works."
Despite staying in France for most of his life, the artist retained a deep sense of love for his homeland, painting tender images of Vietnamese women, children and landscapes.  
After moving to France, he quickly gained recognition by participating in exhibitions.
This exceptional exhibition runs until October 24 in partnership with the Cernuschi Museum, the Asian arts museum of Paris. The vast majority of the works presented have never been shown to the public.
The Ursuline Museum is offering many activities around the exhibition such as calligraphy workshops, concerts and conferences, run by specialists in Vietnamese culture.
A study day was held on June 24 at the Guillemin amphitheatre to better understand the universe of artist Thu.
April this year saw his painting Portrait of Madame Phương fetch a record price of US$3.1 million at Sotheby's Hong Kong auction, the highest price ever paid for a piece of Vietnamese art. VNS
TAG: