20th century music concert goes online amid Covid-19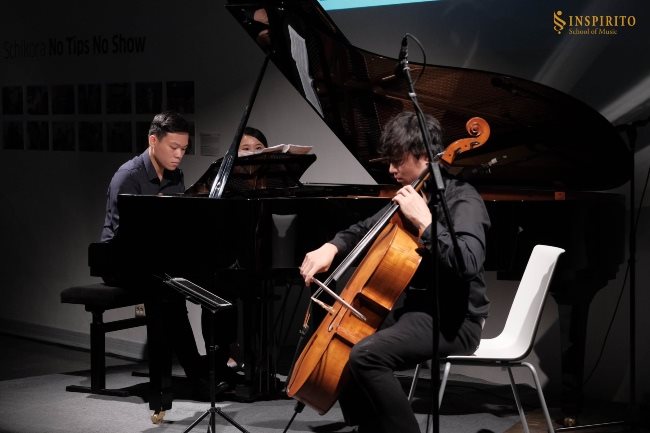 Artists perform at the third concert of the "Music of the 20th Century" series in May. The fourth show of the series will be held online next Monday - PHOTO: COURTESY OF INSPIRITO SCHOOL OF MUSIC
HCMC - The fourth concert of the "Music of the 20th Century" series will be held online amid the complicated development of the Covid-19 pandemic in Vietnam, the Goethe-Institut Vietnam announced.
The performers are soloists and lecturers from the Vietnam National Academy of Music and the Inspirito School of Music, including pianists Luu Duc Anh and Hoang Ho Thu, trumpeter Urushihara Yuki, percussionist Kyle Acuncius, violist Patcharaphan Khumprakob and oboist Hoang Manh Lam.
The fourth show of the 20th century concert series will continue to take the audience through a journey of drastic transformation and musical languages.
The entire program promises to be a colorful affair with different styles from many different countries, starting with the Medtners musical style which is strongly influenced by the Romantic tradition, expanding to special creations written for the piano by Barber, Ligeti, Ornstein or Japanese composer Toshio Hosokawa.
The artists will also explore how modern composers exploit different techniques of composing and performing on other instruments such as the oboe, the trumpet, the viola and the percussion or even a toy piano with works by Goldmann, Vizutti, Hindemith, David Lang and Cangelosi.
Some of the masterpieces that will be played are Mai – Old Japanese Dance Music by Toshio Hosokawa, Miracle Ear for Solo Toy Piano by David Lang, Glamour by Casey Cangelosi, Solo for Oboe by Friedrich Goldmann and Sonata Tragica Op. 39 No. 5 by Nikolai Medtner.
The concert will be broadcast live via the Facebook page of the Goethe-Institut Vietnam on June 28, beginning at 7 p.m.
Hosted by the Goethe-Institut Vietnam, the Music of the 20th century concert series introduces compositions of the 20th and 21st centuries by important living or deceased world-famous composers.
TAG: