People adapt to pandemic with home exercise routines
Thanh Nga
With gyms closed to prevent the spread of the COVID-19 pandemic, many people are exercising at home to stay in shape.
Previously, Nguyễn Thu Hồng, an editor of the Vietnam News Agency (VNA) Publishing House in Ha Noi regularly did yoga at the gym, but now she exercises at home. In the early morning, she does yoga for about 30 minutes.
Hồng said that practising yoga has been an indispensable part of her life for more than 10 years.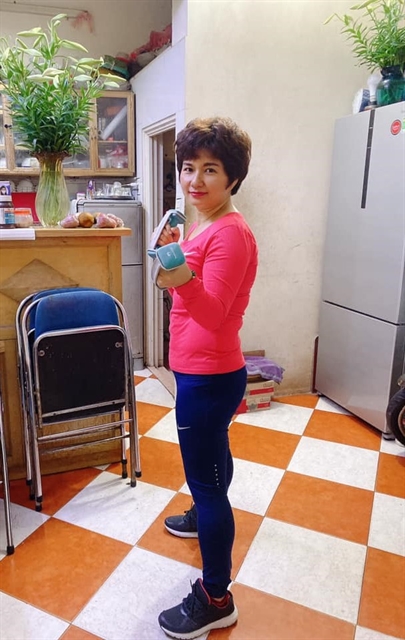 Trịnh Thuy Quỳnh often exercises at home with dumbbells. — Photo courtesy of Trịnh Thuy Quỳnh
Meanwhile, Nguyễn Quang Vinh in Ha Đong District bought a treadmill for his five-member family to use.
"To avoid having to contact many people during the pandemic, my family members don't go to the park to exercise as before. I bought a treadmill and placed it in the living room to train together to maintain strength," Vinh told Viet Nam News.
Huỳnh Kim Nhật, a teacher at Thủ Khoa Huan Primary School in Tiền Giang Province, said due to the spread of the virus in the province, she rarely goes out and exercises at home to stay healthy.
Nhật said exercising every day not only kills time but also makes her feel better about herself. Nhật said she exercises for about 45 minutes in the afternoon every day.
"The pandemic is a time for us to have the opportunity to look deeply into ourselves, to have time to live slowly and think more positively and do things that sometimes we don't," she said.
"Exercise is also an interesting thing that you should try. Besides, don't forget to add enough nutrients to have a healthy body and always follow the 5K principle, for yourself and the community." 
With HCM City in a social distancing period, many celebrities have tried to lift their fans' spirits by making short videos of their daily routines.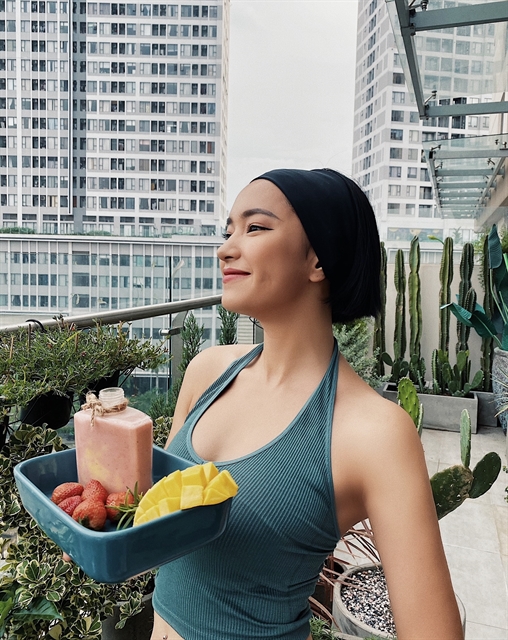 Maintaining health and maintaining healthy habits has always been the favourite of fashionista Chau Bui during the last seven years. — Photo courtesy of Chau Bui
Exercise apps online at home
Many people are exercising with the help of YouTube channels and dance, zumba and yoga exercise courses.
Smartphone apps are also popular among young people for exercise, with the likes of Daily Workouts, Gym Wp, Pro Fitness, Sworkit Lite, Aaptiv and Daily Burn offering free instructions for workouts from basic to advanced levels.
Some apps also measure muscle fatigue, muscle recovery time, weight, measure excess fat and BMI (body mass index) to build science into your workout.
Nguyễn Thanh Nhật, the owner of a gym, said that his gym have switched to coaching clients online.
"With the gym closed and no revenue, we have many difficulties. Using the internet to guide people is a way to create a bond between them and us. Hopefully after the pandemic, they will still come to my gym," said Nhật. VNS
TAG: