Lifestart Foundation donates e-bikes to disadvantaged students in Quang Nam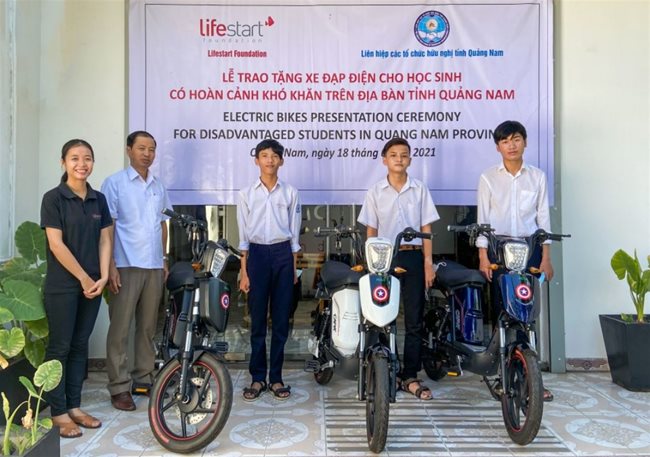 Three students receive e-bikes from the Lifestart Foundation - PHOTO: NHAN TAM
QUANG NAM - Lifestart Foundation donated three electric bicycles valued at VND12 million to disadvantaged students at Le Thanh Tong and Dung Si Dien Ngoc schools in the central province of Quang Nam.
The students are all from underprivileged families who only own aging bicycles.
Karen Leonard, Order of Australia Medal, Founder of Lifestart Foundation, said, "Apart from supporting disadvantaged students with the Lifestart Foundation Education Scholarships, we are also thrilled to reach out to the larger community to provide the students with transportation. The provision of much needed e-bikes reduces some of the dangers for the students when they have to travel far for studies and enables them to travel long distances much quicker."
The donation is one of the many activities of the Lifestart Foundation community. Founded in 2000 by Leonard, an Australian, and supported by a team of dedicated volunteers, Lifestart Foundation is a grassroots, not-for-profit charity that helps disadvantaged Vietnamese families become self-sufficient.
This is achieved through their two largest projects, Education Scholarships for disadvantaged students and their Housing Improvement project.
To date, Lifestart Foundation's investment in the disadvantaged youth of Central Vietnam is in excess of VND26 billion (around 1,500,000 AUD).
TAG: