Artists spread safety messages amid pandemic
Le Hương
It's the peak of summer in Ha Noi and the sun is beating down relentlessly.
The streets are less crowded as students are off school while many offices have applied social distancing policies.
Here and there on the streets, artworks have brought more fun to quiet street corners.
Paintings can be found on the most surprising surfaces like electric boxes, electric poles, on multi-storey houses or along walls running the length of a street.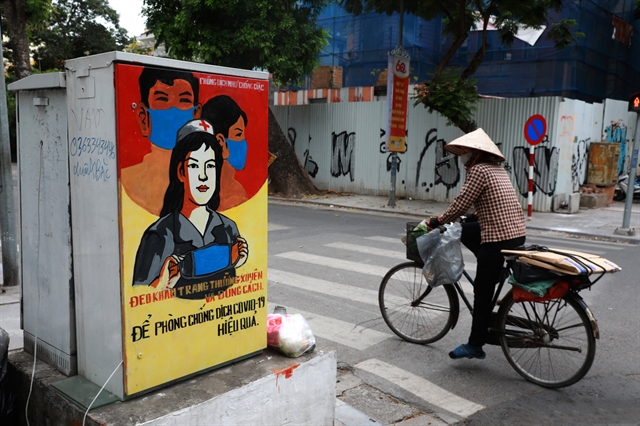 A painting decorating an electricity box on Phan Boi Chau Street. — VNS Photo Trương Vị
The artworks contain easy-to-understand messages on pandemic prevention and encourage people to be active in the process.
They can be found on various downtown streets like the Bạch Mai-Le Thanh Nghị Junction (Hai Ba Trưng District) and in the uptown areas like Phu Thượng (Tay Hồ District), and Quang Trung and Nguyễn Trãi (Ha Đong District).
"Looking at the pictures, I feel cheered up a little bit. We can catch the current situation with health workers working hard, people joining the prevention process by wearing masks and cleaning their hands often," said retiree Le Hạnh, who lives on Le Thanh Nghị Street.
"Everybody passing by will remember their duties as pandemic prevention is the whole people's responsibility, not only frontline workers," she said.
Messages like "Thank you while blouse soldiers!", "Wear masks when going out", "Spare no efforts to wipe out coronavirus" and "We work for you, please stay at home for us!" leave a strong impression.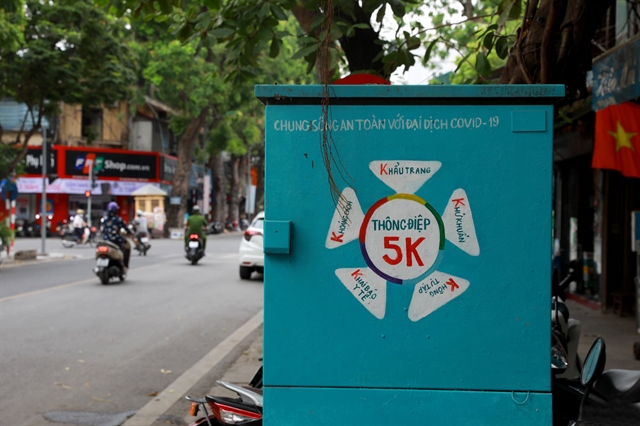 Pandemic prevention messages can be found everywhere. — VNS Photo Trương Vị
According to Tạ Văn Diễm, a local official in Bach Khoa Ward, Hai Ba Trưng District, paintings on street corners are not new.
"Yet at this moment, such propaganda messages are quite meaningful to enhance people's awareness of the more and more complicated pandemic situation," he said.
The drawings were made by local youth unions, veteran's associations and other social bodies.
"We choose routes with great traffic flow to draw pictures," said Nguyễn Hải Đăng, from Bach Khoa Ward Youth Union. "The pictures both decorate the street corners and spread necessary messages."
"We have encouraged members with the capability to draw graffiti to join in the task. They all excited by the idea," he said.
Some of the most recent artworks are on a 100m-long wall along Vũ Trọng Khanh Street in Ha Đong District.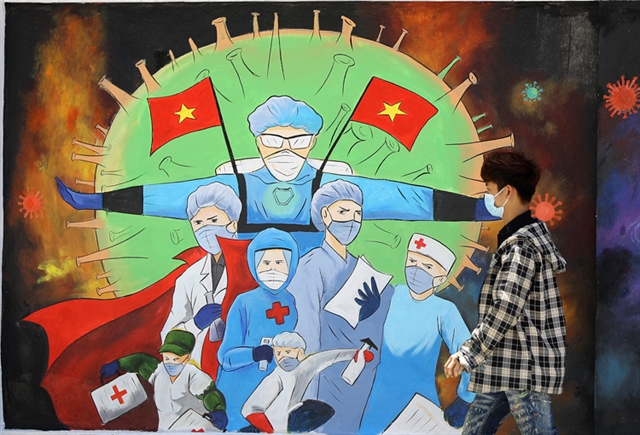 A passerby looks at a painting on Vũ Trọng Khanh Street. — Photo baotintuc.vn
The pieces were done in just a week by the Ha Đong Youth Union and a group of artists led by painter Nguyễn Quang.
Unique graffiti on private house
Last year, graffiti artist Le Long, along with his colleagues, decorated a private house in Văn Phu Urban Area in Ha Đong District with a wall painting and the message "Stay Strong – Let's Stay Home".
"We are so lucky to have permission from the house's owner," he said. "It's a special way to communicate about the pandemic prevention process."
Though they faced lots of challenges painting the four-storey house with a total area of 300sq.m, they have completed the task.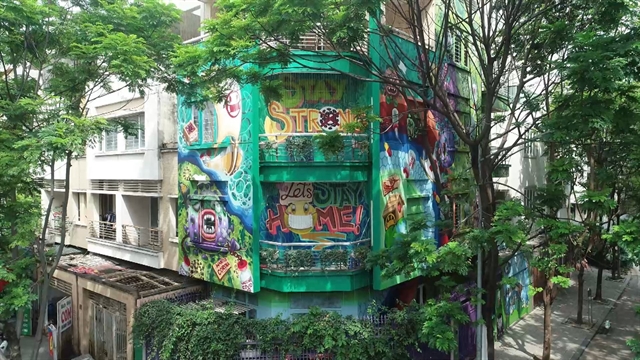 The house looks like a work of art on the street corner. — VNS Photo Minh Phương
Long said he searched online to develop an image on the net into a graffiti painting.
They used some 600 paint spray bottles of various colours and a truck to draw at a height of 20m
"I stop here every time to admire the special visual impression," said Phan Lợi, who lives nearby. "Images of the virus killed by vaccines, the virus wearing a mask or a house of Viet Nam with all people joining hands to prevent the pandemic, they are all so funny and educating as well."
Lưu Thị Minh Chau, the owner of the house, said the work was completed in 30 days when the city was under social distancing orders in early April last year. The artists worked between 8am and 6pm every day.
Chau said after the work was done, she installed a light to highlight the graffiti at night.
"Looking in general, the house is really a unique and impressive artwork," she said. "I'm proud of it and happy to host a necessary message for the community."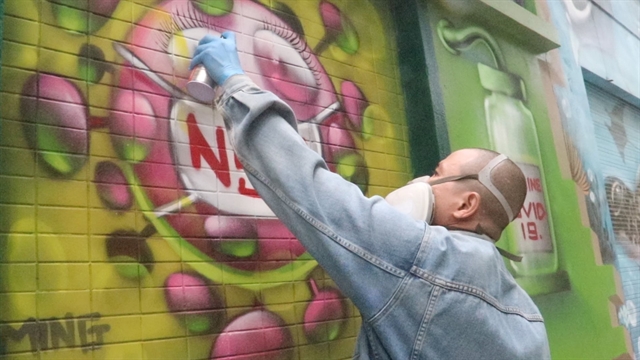 Long works on the graffiti outside the house in Ha Đong District. — VNS Photo Minh Phương
Long and colleagues have also drawn graffiti paintings in other areas like Lam Hạ Street (Long Bien District), Quan Ganh Street (Thường Tín District), Mậu Lương Street (Ha Đong District) and Trịnh Đình Cửu Street (Hoang Mai District).
Most of the paintings are made on large local houses that are easy to see for passersby.
"We want people not to criticise graffiti images as illegal, filthy sketches on the wall," Long said. "Graffiti can transmit a humane message in beautiful appearances." — VNS
TAG: