Dossier completed for national treasure to seek documentary heritage recognition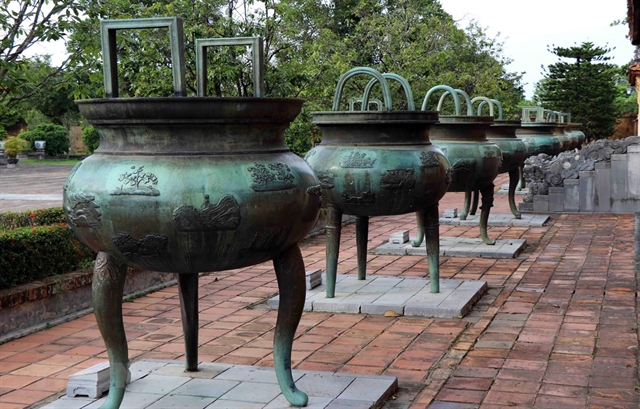 The intact urns, placed inside Thế Tổ Temple in the Huế Imperial Citadel for more than 200 years, are all cast in bronze. VNA/VNS Photo Đỗ Trưởng
THỪA THIÊN-HUẾ  — The Huế Monuments Conservation Centre has completed a dossier for the national treasure of cửu đỉnh (Nine Dynastic Urns) to seek UNESCO recognition , said Dr Le Thị An Hòa from the centre.
The dossier will be submitted to the Ministry of Culture, Sports and Tourism for consideration and recommendations before seeking UNESCO's recognition.
The intact urns, placed inside Thế Tổ Temple in the Huế Imperial Citadel more than 200 years ago, are all cast in bronze. Each one is about two metres tall and weighs 2,600 kg, commemorating a king of the Nguyễn Dynasty, which ruled Viet Nam from 1802 to 1945.
They were recognised as a national treasure in 2012, and considered the most valuable bronze works in Viet Nam.
Outstanding symbols of the country's immortal reign and wealth, the urns were cast in late 1835 and completed in early 1837, under the reign of King Minh Mạng.
The urns can also be considered a "geographic encyclopedia" of Viet Nam in the 19th century with 162 carved patterns exquisitely embossed on their surface depicting landscapes and daily activities across the country, including 90 images of typical plants and animals.
Of note, the country's sea and islands were carved on the three largest and most significant urns. The East Sea is depicted on the "Cao Urn", the one positioned in the very middle and higher than the others, which is dedicated to King Gia Long, the first king of Nguyễn Dynasty. The southern sea appeared on the Nhan Urn, and the western sea on the Chương Urn.
Alongside various ancient documents, the patterns on the urns serve as a valuable historical source affirming Viet Nam's sovereignty over Hoang Sa (Paracel) and Trường Sa (Spratly) archipelagos. VNS
TAG: