Digital platform offers assistance to people with disabilities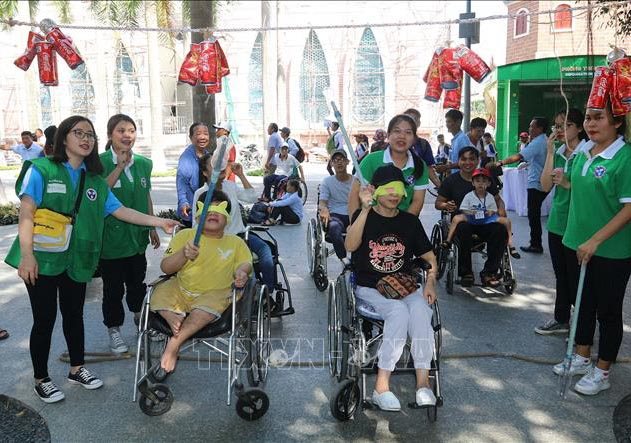 People with disabilities participate in a game at an event for disabled people in HCMC. The NKT app has been launched to offer need-based assistance for people with disabilities – PHOTO: VNA.
HCMC - A software and mobile application, NKT, has been launched, making it easier for persons with disabilities and explosive ordnance survivors to register their information and for social workers to improve their information management system.
To digitalize social work activities to support vulnerable groups to leave no one behind, the digital platform is one of the key activities of the "Korea-Vietnam Mine Action Project." The project is implemented by the Korea International Cooperation Agency (KOICA), the United Nations Development Program (UNDP), and the Vietnam National Mine Action Center.
The platform is entirely web-based, and the data is centrally stored and managed. It is currently being upgraded with additional support functions to assist persons with disabilities during registration further.
Launching the platform, UNDP Resident Representative Caitlin Wiesen emphasized the importance of promoting innovative solutions to solve issues for persons with disabilities, who are among the most vulnerable people in society and have been disproportionally affected by Covid-19.
A survey of UNDP showed that 24% of persons with disabilities did not have a disability certificate, which limited their ability to access the services and assistance they need.
"The availability of this application for registration and case management of persons with disabilities is a commendable initiative contributing to the greater goal of Vietnam to make society more inclusive for persons with disabilities," said Cho Han-Deog, Country Director of KOICA Vietnam Office.
It is estimated that more than six million persons, equivalent to 7% of the population, in Vietnam are living with a disability. NKT will help make their lives easier and support needs-based assistance.
It enables persons with disabilities, including survivors from accidents with explosive ordnance, to conveniently provide and access data about their disabilities, print a disability certificate, and receive government assistance and communicate any other needs the individual might have to the relevant authorities.
For social protection officers, the digital platform transforms the management and approach of support for persons with disabilities.
The digital platform has been successfully tested in nine provinces and cities, with 90,000 persons with disabilities have already agreed to be registered.
To use the NKT app, people with disabilities and social protection officers can visit http://nkt.btxh.gov.vn or download the app from the Apple Store or Google Play Store.
TAG: