Boy band 365 made their name after YouTube MV hit 500 million views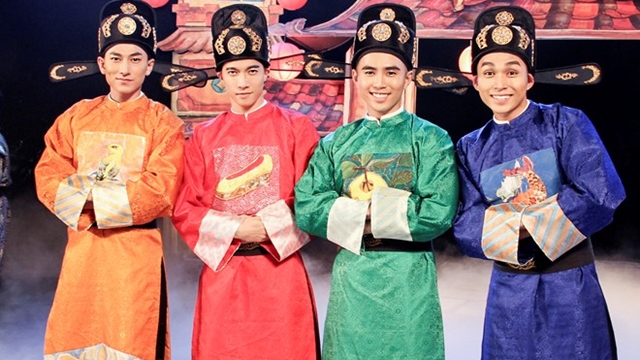 The HCM City-based boy band 365 made their name in the local industry after their music video (MV), called Bống Bống Bang Bang, became the first MV to reach 500 million views on YouTube five years after its release. Photo courtesy of the producer
HCM CITY— The HCM City-based boy band 365 made their name in the local industry after their music video (MV), called Bống Bống Bang Bang, has become the first MV to reach 500 million views on YouTube. 
The MV is about young men in love, based on a Vietnamese fairy tale. Bống Bống Bang Bang was first written for children by Only C, one of Ha Noi's leading music producers, but was later remixed and released for adult audiences in June 2016. 
On the MV, the four members of 365 perform the modern folk song in traditional costumes, impressing audiences, both young and old.
The song won the Best MV of the Year at the 2017 Cống Hiến (Devotion) Award presented by Vietnam News Agency's Thể Thao & Văn Hóa (Sports & Culture) newspaper, after beating MVs from pop idols Đong Nhi and Hồ Ngọc Ha. 
"We wanted to sing in a different way than other young singers. So, we decided to sing Bống Bống Bống Bang, a folk song, instead of a pop or dance number," said lead singer and head of 365 Issac, at the Cống Hiến Award's prize presentation ceremony in 2017. 
Issac is now a solo singer. His band, 365, broke up in late 2016 after six years together. Other members of the band are working in movies and theatre. 
Bống Bống Bang Bang was used in the blockbuster Tấm Cam-Chuyen Chưa Kể (Tấm Cam-The Untold Story), directed by Ngo Thanh Van, one of the country's few female film directors and producers.
The 90-minute film is based on a fairy tale, Tấm Cam, best known as the Vietnamese version of Cinderella. 
The story tells the life of an orphan girl named Tấm, who is beautiful and hard-working, and has a kind word for people and animals around her. She lives with her stepmother and half-sister named Cam, who always finds a way to harm her. After facing challenges, Tấm finally marries the King and lives happily.
Producer Van, who was also the manager of 365, invested more than VNĐ20 billion (nearly U$900,000) in filming.
Tấm Cam-Chuyen Chưa Kể earned more than VNĐ21 billion ($910,000) in ticket sales in the first three days of its release in 2016. It was released in 37 cinema complexes in Ha Noi, HCM City and provinces, earning more than VNĐ70 billion ($3.1 million) in ticket sales. — VNS
TAG: