Germany hosts exhibition on 'Truyện Kiều '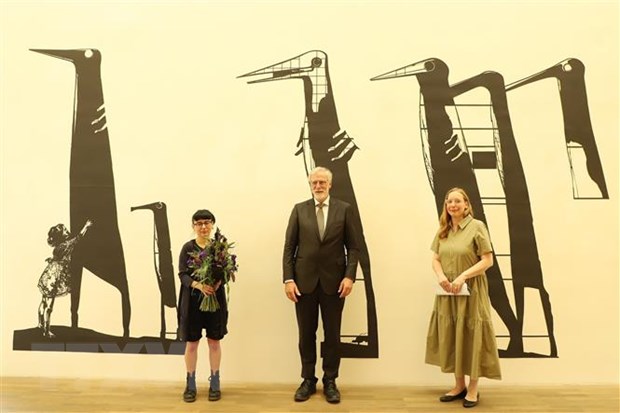 (From left to right) Artist Franca Bartholomai; Minister of Culture of Saxony-Anhalt Rainer Robra and Art Foundation's director Manon Bursian at the exhibition. VNA/VNS Photo Mạnh Hung
HÀ NỘI – Artworks inspired by the Vietnamese literary masterpiece Truyen Kiều (The Tale of Kiều) are on display at an exhibition in Germany.
The exhibition entitled Das Madchen K (A Girl Named Kiều) features 24 large woodcuts and papercuts made by artist Franca Bartholomai.
Truyen Kiều by poet Nguyễn Du (1766-1820) is regarded as one of Vietnamese top literary works. Author Nguyễn Du was recognised as a world-famous personality by the United Nations Educational, Scientific and Cultural Organisation (UNESCO) at its 37th General Assembly in Paris in 2013.
The masterpiece has been translated into more than 20 languages and is cherished for its creativity, independent thinking and distillation of Vietnamese culture.
The exhibition virtual opened on June 3 at Saxony-Anhalt State's Art Foundation.
"The installation of woodcuts and papercuts made by artist Bartholomai offers a whole new view of the time-honoured epic," Minister of Culture of Saxony-Anhalt Rainer Robra told the Vietnam News Agency's correspondent in Germany.
"The exhibition-goers will feel strong emotions and Kiều's character through images of modern artworks," he said.
The minister, who is also head of the State Chancellery of Saxony-Anhalt Minister for Europe affairs, said he hopes through the exhibition as well as co-operation between the Saxony-Anhalt State and Vietnamese localities ties between the two countries will be enhanced.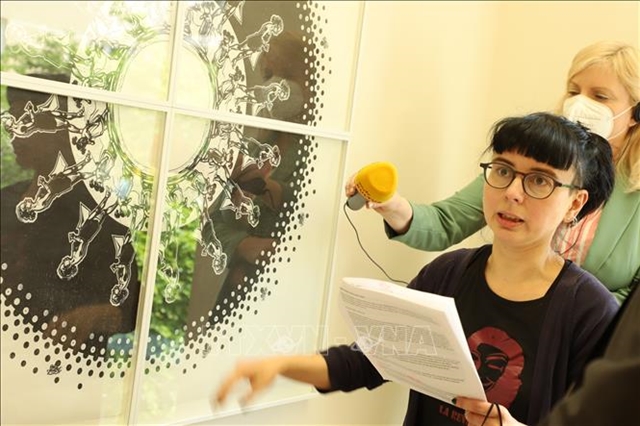 Artist Franca Bartholomai is introducing her artworks at the exhibition. VNA Photo Mạnh Hung
"The exhibition is a major international co-operation project, contributing to promoting cultural exchange and understanding between the two countries," said Art Foundation's director Manon Bursian at the exhibition ceremony.
She also expressed her hope for more artistic co-operation projects in the near future between the Saxony-Anhalt State's Art Foundation and Viet Nam to help the German public understand more about Vietnamese culture and art.
Inspired by Truyen Kiều, artist Bartholomäi created a series of woodcuts and papercuts. With skilled hands and artistic creativity, she introduces the exhibition-goers to the constant conflicts around the main female character Kiều.
The exhibition is hoped to provide viewers with a new perspective on Truyen Kiều and the identity of Kiều, as well as the role of women in the modern world.
The exhibition is held by the Saxony-Anhalt State Art Foundation and Ha Noi Goethe Institute sponsored by the Vietnamese Embassy in Germany.
In his video speech, Vietnamese Ambassador to Germany Nguyễn Minh Vũ sent greetings and expressed his hope that German friends and the Vietnamese community in Germany will not only have the chance to enjoy the artworks by the German artist but also get to know more about Truyen Kiều. 
The exhibition was held in Goethe Institute in Ha Noi in 2019 with the participation of the artist. In Germany, it will run until August 1 at Art Foundation in the Saxony-Anhalt State. – VNS
TAG: