Map on President Hồ' s 30-year national salvation journey released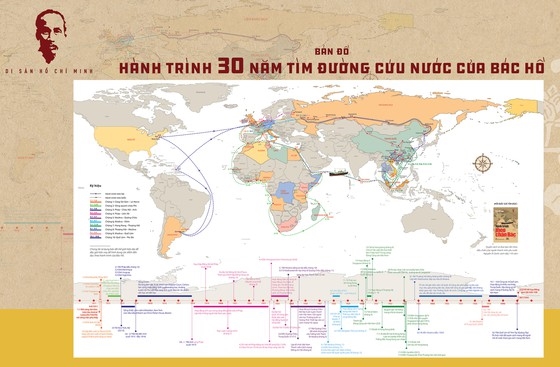 The Trẻ (Youth) Publishing House releases a map featuring late President Hồ Chí Minh's journey to seek ways for national salvation to mark its 110th anniversary (1911-2021). —  Photo courtesy of Trẻ Publishing House
HCM CITY — A map featuring President Hồ Chí Minh's 30-year journey to seek ways for national salvation has been released by the HCM City-based Trẻ (Youth) Publishing House to mark its 110th anniversary. 
It highlights the major periods from the time he left Nha Rồng Wharf in Sai Gòn (now HCM City) on June 5, 1911, until he founded the Party, led the Vietnamese people in their struggle for independence and established the Democratic Republic of Viet Nam in 1945. 
The 1911-1929 period depicts the evolution of patriotic young man Nguyễn Tất Thanh into communist Nguyễn Ái Quốc (an alias he used) in the movement to liberate colonial peoples and achieve independence for Viet Nam.
The 1929-1945 period features Nguyễn Ái Quốc's founding of the Communist Party of Viet Nam, the leadership of the people for launching a successful uprising against the French and Japanese, and the establishment of the Democratic Republic of Viet Nam.
The map includes details of dates and locations.
"The map will help young people learn about President Hồ, his career and his contributions to the revolutionary cause of the Communist Party, the liberation of the nation and the movement of international communists and workers," a spokesperson for Trẻ Publishing House said. 
The publisher released a series of books about the late president and his career in May, including Bac Hồ Voi Quốc Hoi Viet Nam (President Hồ and the Viet Nam National Assembly). 
The book features his remarkable achievements in communicating with people of different classes and backgrounds in the 1940s and reading the Declaration of Independence as President on September 2, 1945.
It also includes accounts by historians and researchers about his contributions to the Party and nation. — VNS
TAG: