Recipe Fish sauce fried chicken wings
Either eaten with sticky rice or served in daily meals, this chicken dish is a favorite of Ho Chi Minh City. Learn how to make the delicious dish below!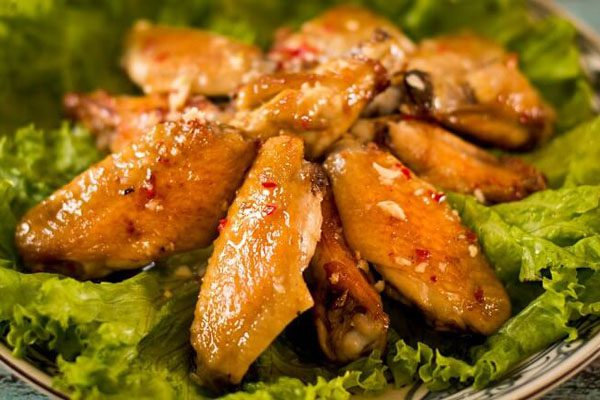 Photo: Daubepgiadinh
Fish sauce fried chicken wings is a favorite dish in Saigon and is loved by a lot of people and tourists around the world aside from Korean's Honey garlic chicken wings and China's Soy sauce chicken wings. Meanwhile, chicken wings fried in fish sauce in Vietnam is special for its sweet and salty taste of the sauce in one bite, combined with fried garlic makes mouth-watering sight.
- Prep time: 45 minutes.
- Servings: 4-5 people
- Amount of calories: 3442 kcal
1. Ingredients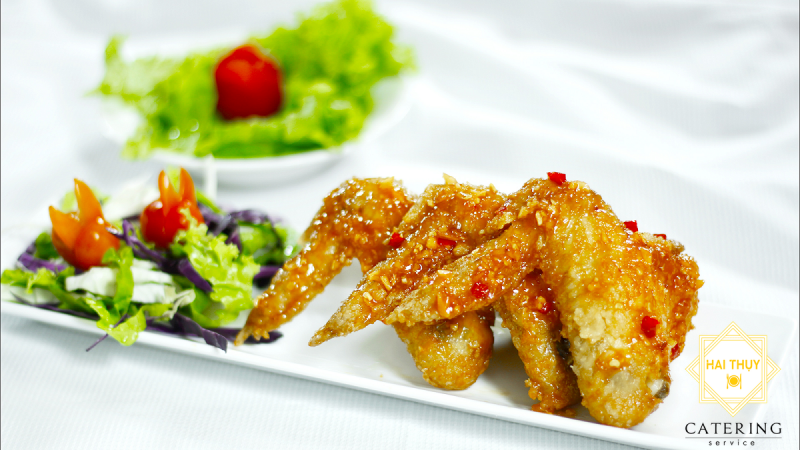 Photo: Hai Thuy Catering
+ 650 – 700gr chicken wings.
+ 2 teaspoons of sugar.
+ 2 teaspoons of fish sauce.
+ 1 teaspoon of oyster sauce.
+ 1 teaspoon of chili sauce.
+ Chopped garlic, cooking oil, cornstarch or tempular flour. .
2. Instructions
+ Clean the chicken wings, soak them in warm water with salt, add some slices of ginger and crushed onions, leaving it in 10-15 minutes. Then, pat the chicken wings dry with paper towels. If the wings are big, cut them into small pieces, and if they are small, leave them whole.
+ Marinate the chicken wings with 1 teaspoon of salt, 1 teaspoon of pepper, 1 teaspoon of broth mix, 2 teaspoon of Korean chili powder, 1 teaspoon of chicken fat or lard, 1 teaspoon of cornstarch and ginger, crushed onions (remove ginger and onions while frying to avoid burns.) Wear mixing gloves and coat all sides with the seasonings. Marinate in 15-20 minutes.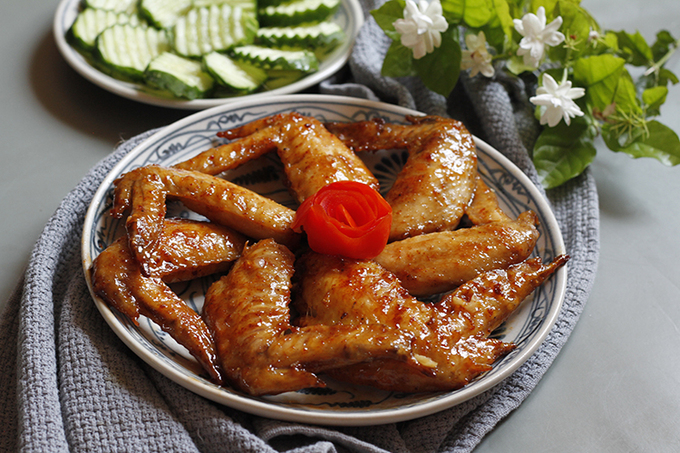 Photo: Bui Thuy
- How to make the dipping sauce: Pouring 2 teaspoon of sugar, 2 teaspoons of fishing sauce, one spoon of oyster sauce, one teaspoon of chili sauce, one teaspoon of water into a large bowl, then mix them together.
- Frying the chicken wings: Fry 2 times using the medium heat for the wings to be fully cooked, and crispy.
+Fry first time: Pour the cooking oil into the frying pan, heating it up, then half fry the chicken wings. Scoop them out and let them cool down.
+ Fry the second time: Keep the pan hot, turn down the heat a little bit, then put the chicken wings into the pan and fry until they turn a delicious golden color. Then, scoop the wings out and place them on oil absorbent paper.
+ Reheat the oil and stir fry the garlic and onion for about half a minute. Then, pour in the sauce and boil gently in a minute. Add the chicken wings to the sauce and toss to coat each piece well.
+ Put the chicken wings onto the plate and serve.
Chau Polly
TAG: