Bún nghệ xào lòng, a unique dish of Huế
Duy An
"Bun nghe xao lòng (stir-fried vermicelli with pig intestines and turmeric) is one of Huế's most popular dishes. It has closely connected with many generations of locals," said my friend's mother Hoang Thị Thủy.
The dish is best made by housewives from Huế like her, she said, adding that during my working trip to Huế, she would cook me the dish.
I was very lucky because I love to experience traditional food everywhere I go, so I told Thủy that I would go to the market to buy the ingredients to cook the dish with her.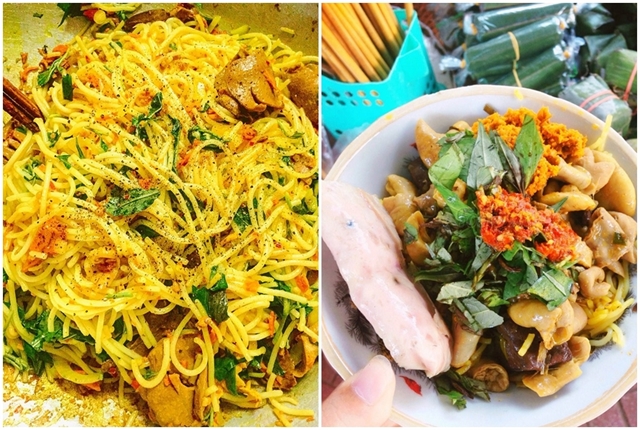 Kicker: Bun nghe xao lòng, a specialty of Huế. Phototoplist.vn
Early morning the next day, her daughter and my friend Trần Kim Chi and I went to the market 500m from her home.
Thủy said ingredients for four people include fresh vermicelli (300gr), fresh turmeric (100gr), pig intestines (200gr), pig liver (50gr), pig blood (100gr), half an onion, garlic chives (15gr), two chillis, coriander (50gr), one soup spoon of fish sauce, salt 1/2 tsp, mixed broth 1 tsp and pepper 1/2 tsp.
She told us how to choose good pig intestines, saying it should be white with light pink colour and thick to avoid it being bitter and tough. 
"The tripe should be carefully washed with white wine to remove fishy smells. It should be soaked with mixed broth, salt, sugar and other spices for 20 minutes before frying it," she said.
When we returned back to Thủy's home, she asked Chi to grind the turmeric, I cleaned other things and boiled the pig's liver and blood.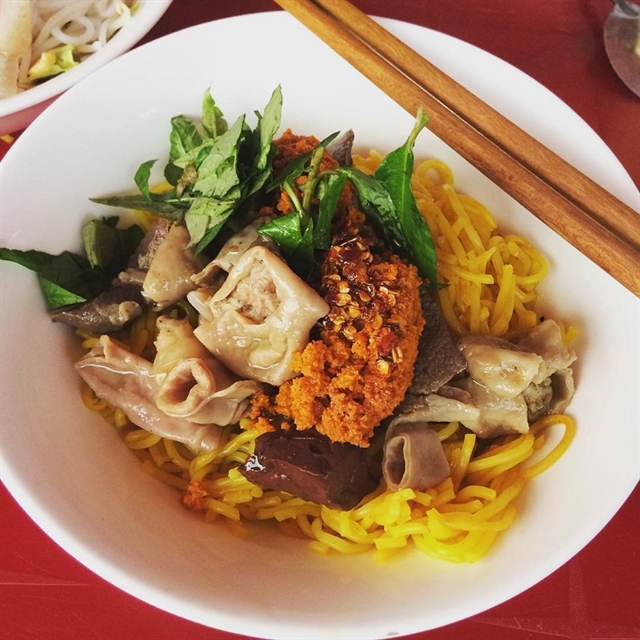 Kicker: A tasty and delicious bun nghe bowl. Photo reviewnao.com
I was very excited to watch Chi's mother cook the dish. She fried the onion pieces with cooking oil over a big fire then poured the intestines into the pan and quickly stirred it for a while then put the ground turmeric in and continued to stir it well before putting fish sauce and vermicelli in.
This process should take five minutes then pour it in a big bowl and top it with garlic chives, coriander and pepper, Thủy said, inviting me to taste it.
The yellow dish was so attractive that I was eager to try it. The pig intestines were crispy and fragrant while the vermicelli was soft and deeply soaked with spice, garlic chives, coriander, chilli and pepper.
I was particularly impressed by the strong fragrance of the turmeric flavour which I had not tried before.
Thủy said the dish is very good for health, particularly girl's skin, tonic for anaemia of pregnant women and it effectively treats coughing in children.
The dish has been handed down from generation to generation in Huế. A Huế girl is often taught how to make the dish by her mother. She will also be asked to cook the dish by her mother-in-law when she first arrives at her husband's house, said Thủy, adding that many visitors to Huế enjoy the dish.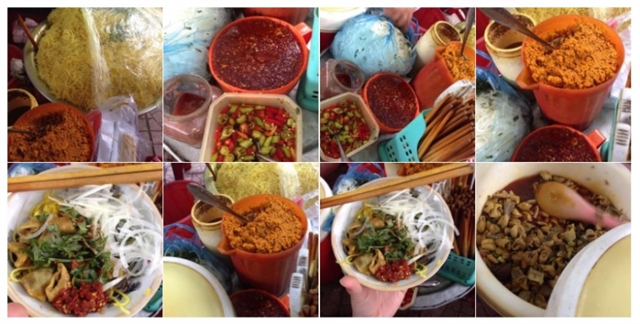 Kicker: Pig intestines and fresh turmeric are among main ingredients to cook the dish. Phototoplist.vn
The dish is available across Huế City but Bằng said his guests most enjoy the dish at Bun Nghe O Ket at 10/154 Ba Trieu or Bun Nghe Phu Cam Bridge, Bun Nghe Đong Ba Market, and in the culinary area of An Cựu Market. VNS 
TAG: