Retired teacher debuts paintings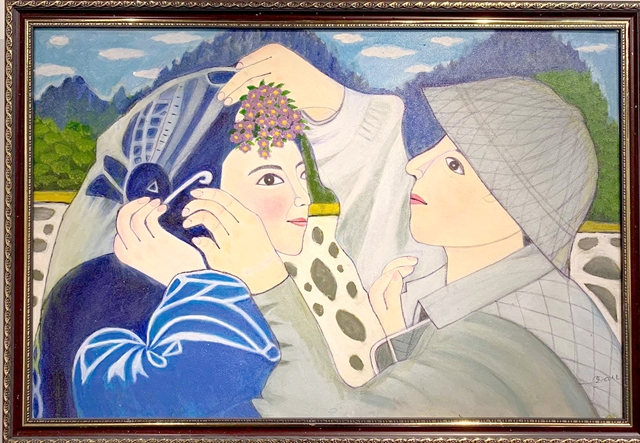 A painting is inspired by amateur artist Nguyễn Ngọc Dậu's memory about her lover. Photo Le Trí Dũng 
HÀ NỘI  — An exhibition by amateur painter and former teacher Nguyễn Ngọc Dậu has captured the hearts of professional artists. 
The exhibition in Ha Noi features paintings selected from more than 100 works created over the last three years. The paintings are in different themes such as still-life, landscape and people. 
She paints people in daily life featuring mountainous horses carrying goods at a weekly market, festival-goers, mountainous women working in the fields and the pain of separation between soldiers and their families. 
"I'm moved by the paintings," said veteran artist Đỗ Đuc. "Like a professional and veteran artist, Dậu's paintings have made a strong impression."
"Overall, the layout and colours are as tight as a professional painter. Looking at the details, the sincere innocence on each line is also in sync with the structure of the painting."
Dậu, 76, is a retired teacher. Her love for fine arts was inspired by her brothers who studied fine arts at the Industrial Fine Arts College.
But neither of them have been able to exhibit their work as one died suddenly and the other had a debilitating accident, leaving Dậu as his caregiver.
"My brother died while he was going to have an exhibition," said Dậu. "It urges me to paint."
One of the most striking paintings features a soldier pinning flowers on his lover's head. The painting looks romantic with the light violet colours to show the artist's loyalty to her late lover.
The painting was made with all Dậu's memory about her only lover a soldier who died in battle in 1975. Dậu could not love anyone after him. 
"The painting is vivid," said veteran artist Le Trí Dũng who is also a popular curator. "This is a unique exhibition with beautiful and emotional paintings."
The exhibition is running at 16 Ngo Quyền Exhibition House until May 27. — VNS
TAG: