Vietnamese actress wins big at international film festivals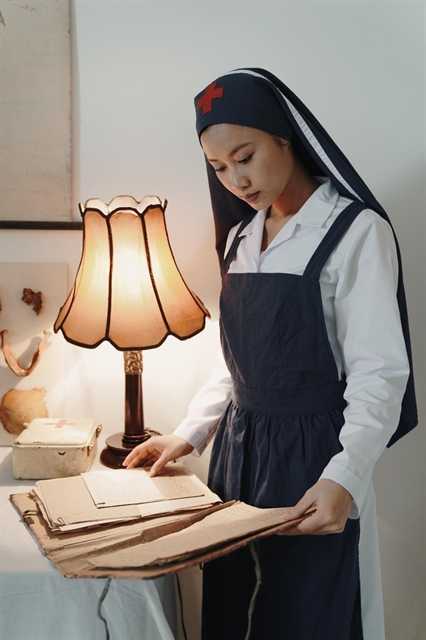 Phượng plays Nguyễn Thị Hòa, a beautiful and sensitive nurse at a Catholic hospital in 1930's French Indochina in Invisible Love. — Photo courtesy of the producers
HÀ NỘI -  Vietnamese actress Hoang Thị Bích Phượng has been raking in the plaudits for her performance in the film Tình Yeu Vo Hình (Invisible Love).
She won the Best International Actor award at the 2021 Paris International Film Festival in February and was nominated for Best Asian Actress at the 54th annual WorldFest-Houston International Film Festival, though she lost out to Japanese actress Nao Hasegawa last month.
"Thank you for all of these moments," Phượng wrote on her Facebook page about the praise.
Invisible Love, starring Phượng, received two other prestigious awards at Paris International Film Festival 2021, including Best Narrative Feature Film and Best International Collaboration.
The drama also won the Award of Excellence for its art direction, and the Award of Merit (Asian Film Feature) at Indie Fest in the US last month.
The film was scheduled to compete at the 2021 Cannes Film Festival but the event was delayed due to the COVID-19 pandemic.
In Invisible Love, directed by Xiang Guo,  Phượng acts as Nguyễn Thị Hòa, a beautiful and sensitive nurse at a Catholic hospital in1930's French Indochina. However, her search for love brings only tragedy. Ultimately, she realises the man who truly loved her was the one who asked for nothing from her at all.
It is a collaboration of filmmakers in Viet Nam, China, and the US, with Chair of the Broadcast Journalism department at New York Film Academy, Bill Einreinhofer as executive producer. Its production budget was about US$500,000, according to IMDb.
The drama will be screened in Vietnamese cinemas at the end of this month.
Another film starring Phượng, Những Co Gai Ben Bờ Biển (Along the Sea), hit cinemas in Japan at the beginning of this month.
A Japan-Viet Nam co-production, Along the Sea was nominated at the San Sebastian International Film Festival 2020 and the Tokyo International Film Festival 2020, along with an award for Best Film dealing with Human Trafficking Issues at the 2020 Cairo International Film Festival.
"It is a movie with a lot of enthusiasm from both myself and the production team that is worth both watching and pondering. Thank you Japan, thank you! Due to the pandemic, we could not attend this moment. I hope that Along The Sea will touch the hearts of many viewers, particularly Japanese," Phượng said.
"The film will probably cause diverse opinions, but when I received this project, I was really touched and sympathised with the main character in particular and the other similar fates in general who are trying to fulfil the dream of making a living in a foreign land!
"My hometown in Viet Nam is very beautiful, and whatever might happen, I have always wanted to live, develop and contribute to my own land!" she added.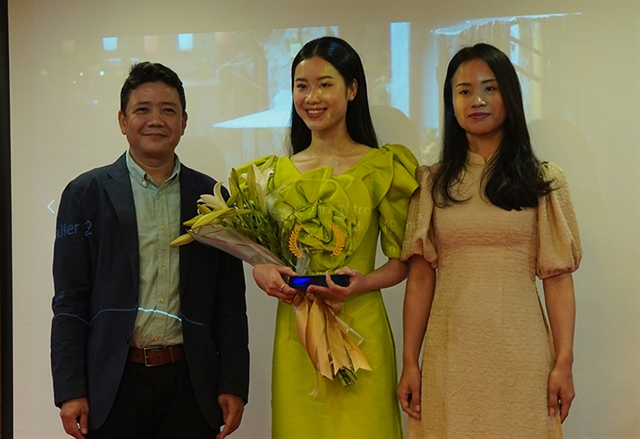 Phượng (centre) won the Best International Actor award at the 2021 Paris International Film Festival. Photo theothaovanhoa.vn
Phượng was born in 1996 in the northern province of Lạng Sơn and graduated in Oriental Studies at the University of Social Sciences and Humanities under the Viet Nam National University. She has starred in some TV series and films and now works as a television MC. VNS
TAG: