Song competition launched to raise awareness over child labor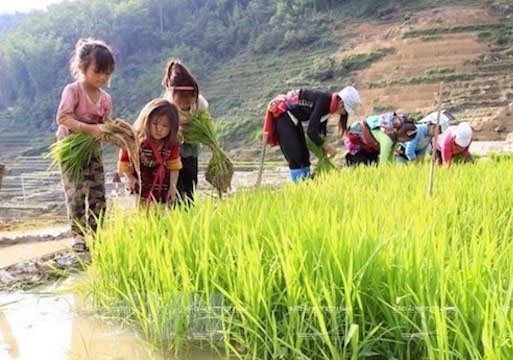 Children work at a paddy field. The Vietnam's Music Against Child Labor song competition aims to harness the power of music to raise awareness over child labor – PHOTO: VNA
HCMC – The Vietnam's Music Against Child Labor song competition is open for entries, encouraging professional and amateur musicians of all ages and from all genres to submit songs that inspire action against child labor.
The competition was launched on April 27 by the Ministry of Labor, Invalids and Social Affairs, the International Labor Organization and the Vietnam Musicians' Association, in collaboration with the United Nations Children's Fund, Save the Children International and Good Neighbors International.
Marking the UN International Year for the Elimination of Child Labor, the competition is expected to raise public awareness over child labor, which affects nearly one in 10 children worldwide and 5.3% of 5–17-year-old Vietnamese children, or more than one million children in the country.
While child labor has decreased significantly over the last two decades, the Covid-19 pandemic threatens to reverse this progress.
According to ILO Vietnam director Chang-Hee Lee, child labor perpetuates intergenerational poverty by keeping poor children out of school and limiting their opportunities for social mobility. Child labor deprives children of the brighter future they deserve. As a result, it deprives the society of a better future.
"Children must be free to achieve their full potential and protected from the dangers of labor exploitation and hazardous work. This is both a moral and an economic imperative. With increased participation in free trade agreements, businesses in Vietnam are compelled to rid their supply chains of child labor," he said.
The Vietnam's Music Against Child Labor song competition is open until August 27, 2021, with two categories for entrants, namely songs and concerts. Musicians, as individuals or groups, can submit a maximum of three entries to one or both categories.
All entries must be original and composed within the past two years. A panel of technical experts and professional musicians will select two first prizes, four second, four third and four fourth prizes for both categories.
Winners will receive certificates and cash prizes with a total value of VND168 million (US$7,300).
"We expect that the power of music harnessed by talented artists will enhance awareness of child labor at all levels of the society," said director of the Ministry of Labor, Invalids and Social Affairs' Department of Children's Affairs Dang Hoa Nam, who is the chair of the organizing committee.
People's Artist Pham Ngoc Khoi, the committee's vice chair and vice chairman of the Vietnam Musicians' Association, has called on musicians and artists across the country to participate in the competition to join the fight against child labor and promote child rights through their entries.
The award ceremony is scheduled for September 21.
The activity is part of the ILO project on Technical Support for Enhancing the National Capacity to Prevent and Reduce Child Labor in Vietnam. The project is funded by the U.S. Department of Labor.
TAG: