World Association of Master Chefs launched in Vietnam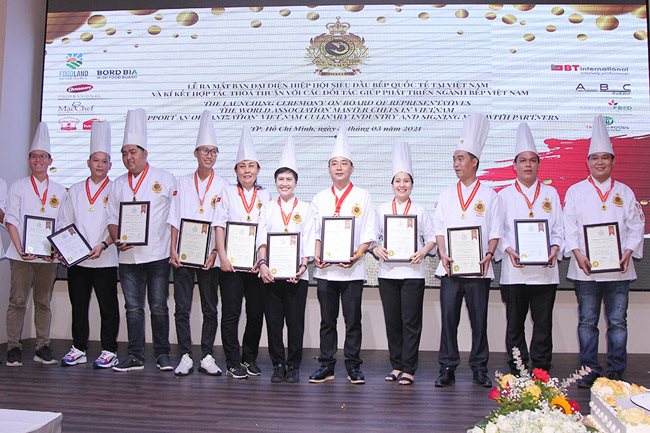 Members of the board of representatives of the World Association of Master Chefs in Vietnam pose for a group photo at a launching ceremony of the association in HCMC on March 31 – PHOTO: MINH HOANG
HCMC – The World Association of Master Chefs in Vietnam was established and launched on March 31 in HCMC upon the approval of Gaven Ferguson, president of the association, aimed at offering a professional and international playground for local chefs, encouraging the world chefs to share more about Asian culinary, as well as improving the industry.
Also, the association looks to develop a solid network which will pave the way for the Vietnamese culinary to advance, including supporting students in the field to have more hands-on experience and upskilling the local chefs.
At the launching event, 13 members of the board of representatives of the association in Vietnam were introduced, with Le Xuan Tam serving as the president.
Addressing the event, Tam said that he hoped the association will gather those working in the culinary sector in Vietnam in particular and Asia as a whole to share their expertise and experience, as well as will help realize the dream of becoming a chef of the local youth.
The association in Vietnam will provide support in terms of promoting culinary brands, products, and services, and organizing contests for talented chefs in Vietnam and Asia, Tam added.
Besides this, the association this year is set to organize training courses twice a month to share about knowledge in the field with hospitality students and open specialized courses for chefs.
Further, it will open culinary specialized courses for teenagers in the Central Highlands and Mekong Delta, offer nutritious meals to underprivileged people and organize extracurricular camping activities in the culinary industry.
The association at the event also signed deals with business partners to implement various programs in the upcoming period. Among its strategic business partners, Bord Bia, the Irish Food Board, is an Irish state agency which is in charge of developing markets and promoting sales of Irish food, drink and horticulture. Bord Bia established an international network of 14 offices in Europe, Asia and North America, aimed at promoting sales in the global market. Through its network, Bord Bia operates as a bridge connecting Irish suppliers with potential customers around the world.
The World Association of Master Chefs not only includes chefs but also people who work in the hospitality industry. The association was registered in Australia and Hong Kong, with more than 39 associations around the world and over 121,410 members.
TAG: