Hồ Chí Minh Cultural Space marks new focus on cultural activities in city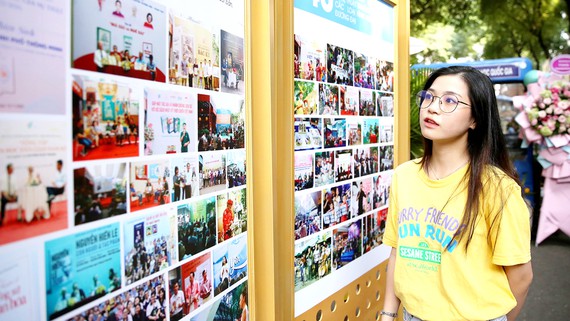 HCM City needs to invest in quality cultural spaces to keep up with locals' increasing demand for cultural activities. Photo courtesy of sggp.org.vn
HCM CITY  Construction of the "Hồ Chí Minh Cultural Space" is expected to enhance cultural growth in HCM City.
The development strategy of the city's cultural industry between 2020 and 2025 was recently approved by the municipal People's Committee.
According to experts, having a clear pathway for the development of cultural activities is a strategic and practical move.
The construction of the "Hồ Chí Minh Cultural Space" is one of the core contents for the growth of the cultural industry in the coming time. 
HCM City currently has two special cultural facilities associated with President Hồ Chí Minh, which are Bến Nha Rồng (now the Hồ Chí Minh Museum, HCM City branch) and House No 5 on Chau Văn Liem Street. They are classified as city-level and national-level monuments.
In an effort to introduce President Hồ Chí Minh's legacy to a broader audience, authorities have published many literary and artistic works, newspapers and documentary films about the president and his thoughts on life, while coordinating with domestic and foreign research institutions to conduct more research about the president's life.
It is also essential to maintain old monuments associated with the President and build new ones. In the near future, construction of Hồ Chí Minh Square in Thủ Đuc City will also be implemented.
According to Associate Professor and Dr Đỗ Ngọc Anh from the HCM City University of Culture, approval of the HCM City Cultural Space project is essential to the city's cultural growth.
"Images and artefacts of President Hồ have to be demonstrated more vividly. If the project is not possible on a large scale, it should be done first in the city centre. Hồ Chí Minh Cultural Space does not only consists of a statue and a few literary and artistic works of the President but has many other elements," she added.
A representative of the HCM City Cultural Centre said as this is one of the steps to create a premise for cultural institutions to be noticed and developed.
"As city leaders now have a better understanding of the operation of cultural institutions at the grassroots level, they will be able to forecast the effectiveness of any plan and install new cultural centres at meaningful areas. Many centres at the moment are not in the perfect place for them, making it difficult to promote cultural values to locals," he said.
Nguyễn Thị Phương Nhung, a resident of District 10, said the city has focused on building public spaces such as pedestrian streets and amusement parks.
However, there is a "culture gap" between the inner city and its suburbs.
"I hope that the new plan will provide locals in suburban areas with chances to experience cultural activities," she said.
Ngo Quang Duy, a resident of Bình Thạnh District, added that many people agreed that investment in quality cultural institutions has not gone hand in hand with socio-economic development. Many places have been abandoned, and the locals have not been eager to learn about them.  VNS 
TAG: