Pro hoops league set to bring back 'bubble' tournaments in HCMC, Hanoi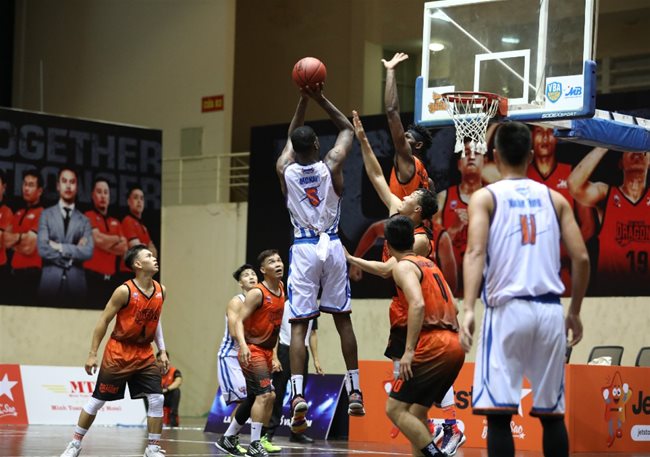 The Vietnam Pro Basketball League's new season will take place from May 15 to June 20 in HCMC and from June 28 to August 20 in Hanoi - PHOTO: COURTESY OF ORGANIZER
HCMC - "My whole life has been one big improvisation." – Hollywood star Clint Eastwood
While the Covid-19 situation continues to give different sports leagues around the world a variety of hurdles to overcome, the Vietnam Pro Basketball League is making the best of it with two upcoming tournaments in sports bubbles in the north and south of the country.
Known as the Vietnam Basketball Association until its name change in 2019, its 2020 season ended in December last year and the new season is coming soon, from May 15 to June 20 in HCMC and from June 28 to August 20 in Hanoi. Last year all the teams camped out in Southern Vietnam and played at a converted soundstage in HCMC's District 12, adapted to give a livestream viewing experience (with a limited number of fans attending the game in person) similar to what the National Basketball Association (NBA) had done in Orlando, Florida.
The bubble arenas being considered include Ho Xuan Huong Stadium in HCMC's District 3, home of the HCMC Wings, and Tay Ho Stadium in Hanoi, home court of the Thang Long Warriors.
An interesting wrinkle is the addition of the Vietnamese men's national team as an eighth squad in the tournament, an initiative motivated by a major competition set for November in Hanoi.
"The league received the request from VBF (Vietnam Basketball Federation) about giving chance for the basketball national team to compete against other teams in VBA from last year," explained VBA marketing manager Truong Trong Minh Phuoc. "And according to the situation of the pandemic, the national team couldn't travel abroad to receive intensive training and friendly matches with other national teams, so the VBA is the most potential chance for Vietnam basketball nation team to practice for the SEA Games (set for Hanoi this year)."
Obviously, the housing of players and coaches as well as observing all the governmental regulations to do with the Covid-19 pandemic have been considered, with the league having a successful track record from its 2020 bubble tournament.
"Foreign players and coaches are on the way to be in HCMC end of this month, and they will comply the procedure of quarantine according to the regulations of Ministry of Health," Phuoc said. "There are extra players for each category (import, Heritage), called 'The Waiting List'. These players on waiting list also presence in Vietnam during the league for specific circumstances (in the event of a foreign player getting injured and needing a replacement)."
The league has also floated the idea of floating a 3x3 tournament to be held in four cities, following FIBA 3x3 regulations, although this plan is currently in the discussion phase. Still, for basketball-starved fans across the country, the upcoming tournaments are just the sort of slam dunk they've been waiting for.
TAG: