Đồng Tháp adds 14 new community-based tourism areas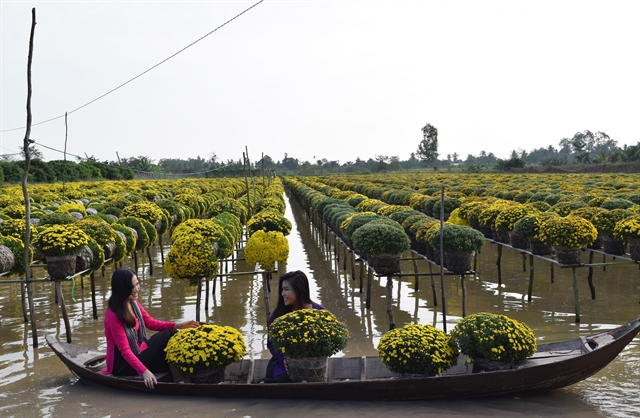 The blooming season of chrysanthemums in Sa Đec Flower Village attracts hundreds of visitors. VNA/VNS Photo by Chương Đai
ĐỒNG THÁP — The People's Committee of the Mekong Delta province of Đồng Thap has approved 14 new community-based tourism areas.
The province has around 100 community-based tourism areas, mostly situated in Cao Lãnh and Sa Đec cities, and Lai Vung, Tam Nong and Thap Mười districts.
"The province's approval aims to turn Đồng Thap into a popular and attractive destination for tourists and even tourism agencies," Ngo Quang Tuyen, deputy director of the province's Culture, Sports and Tourism Department, said.
Tuyen said community-based tourism has been booming in the Mekong Delta. It has helped to promote the value of agricultural products, create more jobs in rural areas, and bring stable sources of income for local households.
Only five households at the Thap Mười Lotus Tourism Area in Thap Mười District initially offered tourism services. But now the number has reached dozens of households. They offer different kinds of services like boating on lotus ponds, catching fish, and enjoying local authentic dishes.
Before the COVID-19 pandemic, the tourism area served an average of 10,000 visitors per month, and even 1,000 visitors a day on national holidays and Tết (Lunar New Year).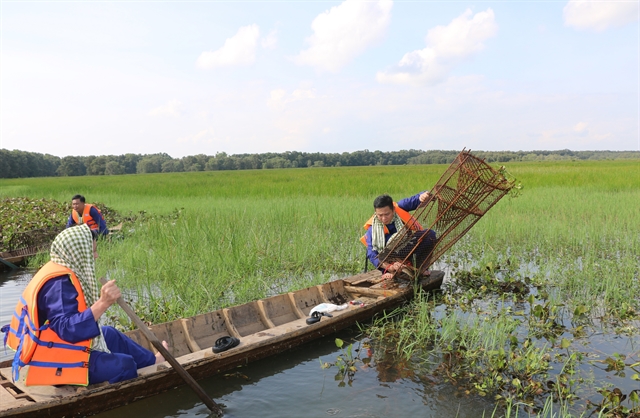 Visitors take part in a community activity at Tram Chim National Park in Đồng Thap Province. — VNA/VNS Photo by Chương Đai
The Tam Nong District, where the Tram Chim National Park is located, established a tourism association to promote local specialties, tourism products and service quality.
The association now has 30 members, offering services such as food and beverages, homestays, tour guides, and community activities.
The tourism areas in the district welcome about 100,000 local and foreign tourists every year.
Tuyen said agriculture was also a strong advantage for Đồng Thap to develop community-based tourism. It has diverse products such as flowers, fruits and seafood.
Each agritourism spot in the province has an area of 5,000 square metres to over one hectare, attracting 500-1,000 visitors each day, mostly on weekends.
The most-visited spots are the date palm garden in Sa Đec City, the Tan Thuận strawberry garden in Cao Lãnh City, and Ba Tuấn grape garden in Hồng Ngự District, where tourists can enjoy fresh and clean fruit and take photos.
Võ Minh Tiến, the manager of the date palm garden, said the harvest season of dates in April of the Lunar New Year attracted 300-400 visitors a day.
One of the most-visited tourism destinations in Đồng Thap is the Sa Đec Flower Village on an area of 313ha planted with more than 2,000 types of flowers, bonsai trees, and ornamental trees from different regions of Viet Nam.
The village now has dozens of households offering tourism services and homestays like Happy Land Hung Thy, Bamboo House Homestay, and Ngọc Lan flower observatory tower.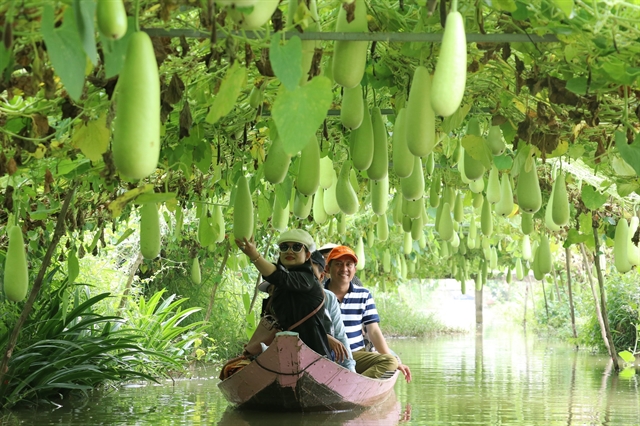 Visitors take a tour to a calabash garden in Đồng Thap Province. — VNA/VNS Photo by Nguyễn Văn Trí
Tuyen said: "Community-based tourism is helping farmers in Đồng Thap to improve their income."
Total revenue from community-based tourism areas between 2016 and 2020 was more than VNĐ43 billion (US$1.86 billion).
Community-based tourism also helped Đồng Thap rank number three in the number of tourists in the Mekong Delta region, Tuyen added. — VNS
TAG: