Hung Thinh Corporation donates real-time PCR Covid-19 testing machine to HCMC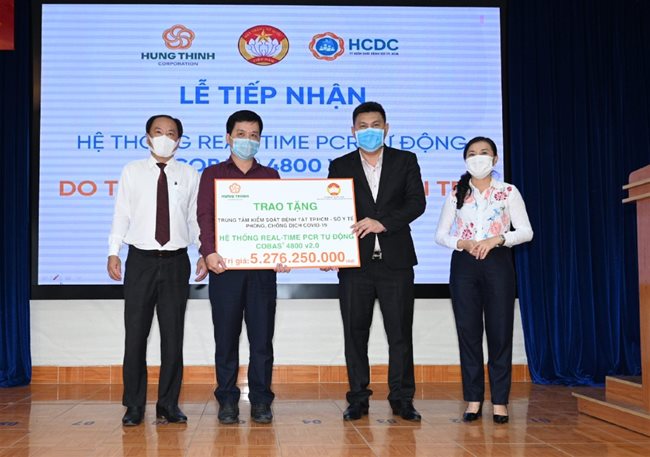 Hung Thinh Corporation hands over an automated real-time PCR Covid-19 testing machine to the HCMC Center for Disease Control on February 17 - PHOTO: HUNG THINH CORPORATION
HCMC - Hung Thinh Corporation handed over a Cobas® 4800 v2.0 automated real-time polymerase chain reaction (PCR) Covid-19 testing machine worth nearly VND5.3 billion to the HCMC Center for Disease Control on February 17 to support the city in the fight against the Covid-19 pandemic.
This is the first automated Covid-19 testing machine in the city, helping reduce the testing time by 30-40% compared with existing methods.
The donation came after Hung Thinh Corporation provided financial aid worth VND2 billion to the center on December 4, 2020.
Since late January, HCMC and other localities have been hit by the third Covid-19 outbreak, which spreads faster than previous outbreaks.
By donating a modern real-time PCR testing machine, Hung Thinh Corporation expected to help the doctors detect new Covid-19 cases quickly, accurately and effectively, contributing to curbing the spread of the virus.
Addressing the handover ceremony, deputy director of the HCMC Department of Health Nguyen Hoai Nam said: "Hung Thinh Corporation is one of the enterprises that have proactively accompanied the city in the fight against the Covid-19 pandemic. We highly appreciate the corporation's support and contribution, which have assisted the doctors and health workers in controlling and ending the pandemic."
Nguyen Nam Hien, deputy general director of Hung Thinh Corporation, said: "Hung Thinh Corporation has always been aware of its responsibility to join hands with the whole country to fight off the pandemic. We hope that the real-time PCR testing machine will help accelerate Covid-19 testing, contributing to effectively controlling the pandemic."
In 2020, Hung Thinh Corporation spent nearly VND50 billion supporting the community's fight against Covid-19 through donating Covid-19 testing machines, mobile X-ray machines, and protective equipment and necessities for frontline health workers.
TAG: