US ambassador sings rap to wish Việt Nam a happy Tết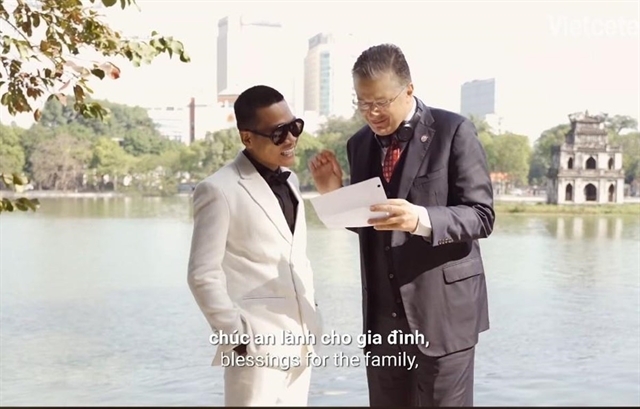 A scene in the video featuring the US ambassador in Viet Nam Daniel Kritenbrink performing rap. Photo cut from the video
HÀ NỘI —  The US ambassador to Viet Nam has proved he's a talented rapper after performing a New Year message alongside a local artist.
Daniel Kritenbrink teamed up with rapper Wowy to perform the duet for his special message for Tết (Lunar New Year).
And already the song is proving a big hit on social media sites and has been featured in newspapers around the world.
The three-minute video was shot on the streets of the capital and features the ambassador singing: "I'm from Nebraska. I'm not a big city boy, then three years ago I moved to Hanoi."
The video show Mr Kritenbrink walking around Ha Noi drinking iced coffee and talking about his love of hotpots.
Top Vietnamese rapper Binz Da Poet praised the ambassador on social media, saying: Amazing, Good Job!".
Some of the lyrics are also rapped in Vietnamese.
The ambassador sings: "Check the calendar, Tết is coming soon, Cần Thơ and Đa Nẵng are in the mood. Xuan ơi xuan đã về.
"Clean the house now, friends are on the way. Cash for the kids, blessings for the family, love for my parents and everyone around me. Năm moi bình an from mine to yours."
Mr Kritenbrink has been the US ambassador for the past three years. Previously he served as senior director for Asian affairs at the National Security Council.
Watch the video here:
TAG: