Filmmakers worry about movie audience attendance during Tết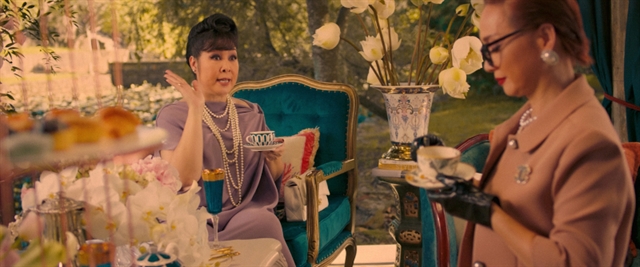 A scene in Gai Gia Lắm Chieu V– Những Cuoc Đời Vương Giả (The Tricky Ladies V: Luxurious Lives), a film featuring love, women and family, produced by Thien Ngan (Galaxy) Studio, one of the country's leading private film agencies. (Photo courtesy of Thien Ngan Studio)
By Thu Anh
HCM CITY— Vietnamese filmmakers are ready for the busiest season of the year, the Tết (Lunar New Year) festival, which begins on February 12, with new movies to be released during the long holiday.
However, they are worried that cinemas may lose audiences because of the COVID-19 pendamic. 
Famous comedian Trấn Thanh and his crew are now filming for a Tết release. His film, Bố Gia (Old Dad), is a new version of the most-viewed web drama in Viet Nam last season. 
It is about the life of an older xe om (motorbike taxi) driver living in HCM City who faces challenges earning money for his wife and two teenaged children. 
The five-episode series, starring Thanh and his peer, People's Artist and comic actress Ngọc Giau, earned more than 90 million views, ranking No 1 on trending on YouTube in Viet Nam after it premiered on January 2. 
Its producer, Thanh, who plays the xe om driver in the film, invested VNĐ4 billion (US$172,000) in the production.
In the movie version of Bố Gia, Thanh invited blockbuster director Vũ Ngọc Đãng, who has 20 years of experience in the industry, to guarantee the ticket sales of his production.
"I added new details to the film to make it fresh for audiences," said the film's director Đãng, adding the work was shot at famous tourist sites in the city. 
"My film features the culture and lifestyle of Saigonnese."
Trailer of Bố Gia has attracted more than 733,000 views on YouTube.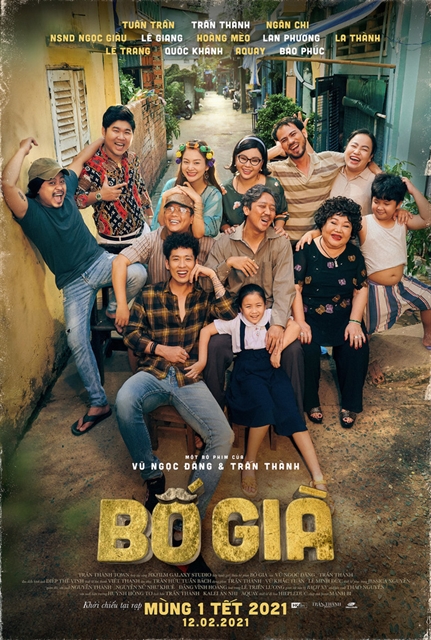 A poster for Bố Gia (Old Dad) produced by well-known comedian Trần Thanh. Vietnamese filmmakers are ready for the busiest season during Tết (Lunar New Year), which begins on February 12, with new movies to be released during the long holiday. (Photo courtesy of Trấn ThanhTown) 
Movie star, director and producer Ngo Thanh Van will release Trạng Tí (Child Master), a film about Vietnamese folk stories, for the New Year. 
The film features four child characters called Tí (Mouse), Sửu (Buffalo), Dần (Tiger) and Mẹo (Cat), who live in a remote village and use their intelligence to protect their villagers. 
Van and her partners spent US$1 million on the production.     
Van used talented director Phan Gia Nhật Linh,to capture the Vietnamese spirit through the film. Filming was shot in Ninh Bình Province, home to Trang An Scenic Landscape Complex,  a World Culture and Nature Heritage site recognised by UNESCO. It is around 100km to the south of Ha Noi.
The soundtrack is composed by Đuc Trí, a graduate of the Berklee College of Music in Boston. Trí uses folk music from people in the northern and southern regions to highlight the film's theme.    
The film's teaser on YouTube has attracted more than 204,000 views. 
"Trạng Tí was scheduled to be released in cinemas in May last year, but it was postponed due to the Covid-19 outbreak. We decided to delay our film's release because we wanted to guarantee the success of ticket sales," said Van, owner of Studio88, a private film and entertainment agency. 
"We will release our film during the Tết holiday. We hope luck will knock on our door," she said. 
In the New Year of 2019, Van released her fantasy film, Tấm Cam-Chuyen Chưa Kể (Tấm Cam -The Untold Story), based on a fairy tale known as the Vietnamese version of Cinderella, in 37 cinema complexes in Ha Noi, HCM City and provinces. 
She earned more than VNĐ70 billion ($3.1 million) in ticket sales while spending only VNĐ2 billion ($97,000) in filming. 
Thanh and Van will release their films on February 12. 
Another film is Gai Gia Lắm Chieu V – Những Cuoc Đời Vương Giả (The Tricky Ladies V: Luxurious Lives), the fifth edition of the chick flick series called Gai Gia Lắm Chieu (The Tricky Ladies) by young directors Bảo Nhan and Nam Cito.
The duo hired A-list actresses Le Khanh, Hồng Van, Kaity Nguyễn and Ninh Dương Lan Ngọc who have helped to attract fans since the staff began filming their first scenes in Huế City. 
The producer, Galaxy (Thien Ngan) Cinema, spent VNĐ46 billion ($2 million) on production.  
Since the debut of the series in 2016, the producers have revealed each new edition at Tết. Last year, Gai Gia Lắm Chieu 3 – Đại Chiến Mẹ Chồng Nang Dau (Battle of Mother and Daughter-in-law) earned VNĐ165 billion (US$7.1 million) in tickert sales.
The fifth work Những Cuoc Đời Vương Giả highlights love, women and family. It will be in cinemas on February 12. 
"I hope my career will approach a new and higher level after playing in Những Cuoc Đời Vương Giả," said 21-year-old Kaity Nguyễn, a Vietnamese-American who rose to fame after her debut in Viet Nam in 2017. — VNS
TAG: