Cải lương guru offers Tết gifts to poor artists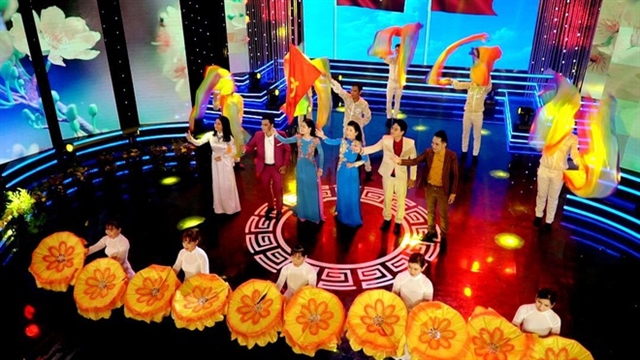 Theatre artists of HCM City perform in Nghe Sĩ Tri Âm (Traditional Performers Together), a charity programme that raises funds for poor artists and their families. The event is organised by People's Artist Kim Cương, a guru of cải lương (reformed opera) who has 65 years of experience in the industry. — Photo courtesy of the producer
HCM CITY — Poor artists and their children living in HCM City will receive Tết (Lunar New Year) holiday gifts this weekend thanks to a charity programme launched by People's Artist Kim Cương, a guru of cải lương (reformed opera). 
Cương and dozens of veteran and young theatre performers raise VNĐ1.5 billion (US$65,000) funds for her art programme called Nghe Sĩ Tri Âm (Traditional Performers Together).
More than 150 actors, including elderly and backstage workers, will receive Tết gifts worth VNĐ6 milllion ($240) each. 
Forty children from artists' families with good study results will receive scholarships worth VNĐ3 million ($120) each. 
Many food and clothes will also be offered. 
"Our artists performed for free in the show Nghe Sĩ Tri Âm in December to encourage organisations and individuals to contribute to charity," said 83-year-old Cương, a member of the HCM City Association in Support of Disabled People and Orphan Children. 
"We hope poor artists, who have devoted their life to Vietnamese art, will have a happy Tết." 
Last year, Cương's annual charity show Nghe Sĩ Tri Âm featured 120 theatre performers, including cải lương stars Út Bạch Lan and Kim Tiểu Long. The event received clothes, food, and VNĐ1 billion (US$45,000) in cash.
Born in 1937 to a traditional family in Sai Gòn (now HCM City), Cương began her love for cải lương through her parents, and the late talented performers Nguyễn Phưoc Cương and Bảy Nam, owners of Đại Phưoc Cương Troupe.  
She started her career when she was 17, after training with her mother, Nam, and actresses Phung Ha and Năm Phỉ, who are recognised as some of the most talented cải lương performers in the country. 
She played leading roles in famous plays, such as Giai Nhan Va Ác Quỷ (The Beauty and Beast) and Phụng Nghi Đình (Tragic Love Story). 
In the 1960s, Cương became involved in drama, a modern imported genre of theatre, working to combine cải lương and drama. 
She later opened Kim Cương Drama Troupe, the first and leading drama troupe in the south, managing a staff of more than 70 actors. 
Cương worked as a scriptwriter and became a phenomenon in the industry in the 1960s and 1970s. 
She wrote 50 plays during her career, most highlighting southern women and their characters. Her works have been staged many times by leading drama troupes across the country.  
She had also performed in more than 30 films. — VNS
TAG: