Sculptors showcase pottery artworks to mark their club's opening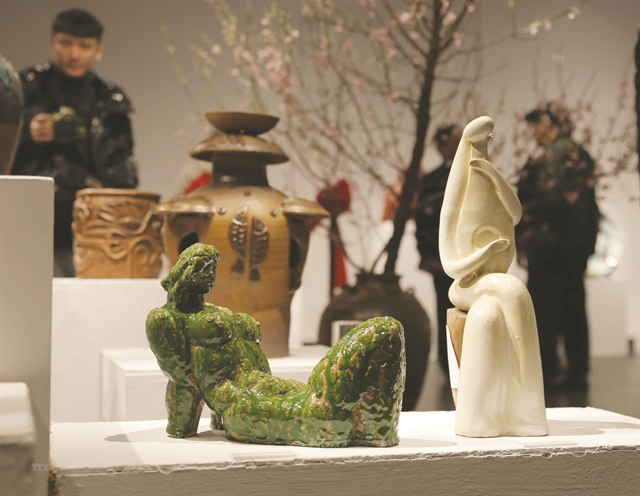 Artworks displayed at the exhibition.
HÀ NỘI — Nearly 100 pieces of pottery by members of the Viet Nam Fine Arts Association are on display at an exhibition in Ha Noi.
The exhibition, which is entitled 'Spring Pottery 2021', showcases the works by 50 artists of different generations of the association.
The 87-year-old veteran artist Le Ngọc Han, who is among the very first students of the Industrial Art College (nowadays called the University of Industrial Fine Arts), has proved his creativity through his works presented at the exhibition.
A pioneer in pottery fine arts since a half-century ago, Han had guided many generations of students to become well-known artists. At the exhibition, his creations are on display together with those crafted by his students.
Especially, both his sons, Le Minh Long and Le Ngọc Ly, have joined their father to unveil their pottery pieces at the exhibition.
Alongside Han's family, 'Spring Pottery 2021' also exhibits works by artist Nguyễn Trọng Đoan together with his sons Nguyễn Đoan Ninh and Nguyễn Ninh Hải.
The event also introduces to the public some artworks created since 1986 by former Chairman of Viet Nam Fine Arts Association, late painter Trần Khanh Chương, who held the position for 20 years, from 1999 to 2019.
Works by his best friends, artists Ngo Doãn Kinh and Vũ Nham, are on display at the event.
Visitors to 'Spring Pottery 2021' can also have the chance to enjoy pottery creations by award-winning sculptors Lưu Danh Thanh, Nguyễn Kim Xuan, Phạm Sinh, Lưu Thanh Lan, Đỗ Ba Quang, Le Minh Long, and Vũ Đại Bình and representatives from the Bat Trang ceramic craft village, including famous artisans Trần Nam Tưoc, Trần Đuc Tan, and Bui Viết Dũng.
Alongside displaying the artworks, the exhibition is also to launch the Pottery Club which operates under the Viet Nam Fine Arts Association.
According to sculptor Nguyễn Kim Xuan, a member of the club's Managing Board, the club was founded thanks to the love and passion for pottery and ceramics of several artists and artisans of traditional villages.
"The club will be a 'playground' for the members where they can share their passion for this fine arts genre. The club's purpose is to contribute to the development of pottery fine arts and to promote the value of traditional pottery villages," he said.
He also said that the club will expand its member networks by inviting artisans from traditional pottery villages across the country.
The exhibition 'Spring Pottery 2021' opens to public until February 10 at the Fine Arts Exhibition House, 16 Ngo Quyền Street, Ha Noi. — VNS
TAG: