National Academy of Music lecturer to celebrate 20-year career with show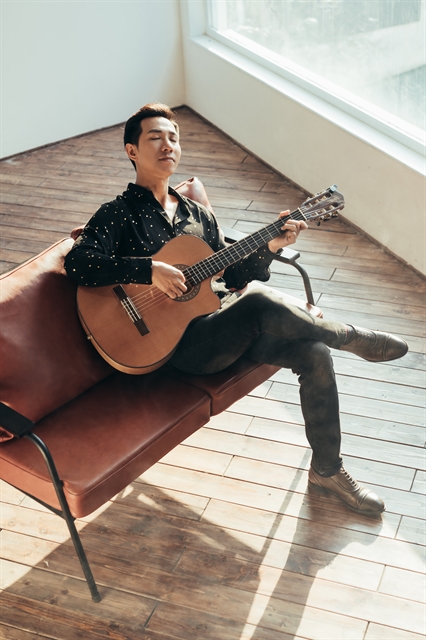 Siner Dũng said he has built his reputation mostly with chamber music but singing pop ballads, especially love ballads, is always his desire.
Together with the show, Dũng will also has plans to release his fourth album on the same day, March 20. The album, named Chờ Em Tren Lối Xưa (Waiting for You on Our Old Street), features songs by singer-songwriter Đuc Huy.
Talking about his decision to perform songs by Đuc Huy on this album, Dũng said he shares views on both music and life with the composer.
"With simple and fresh lyrics, songs by Đuc Huy always present a positive attitude, bringing hope to listeners. Even in his songs about sadness, there are still sparks of hope. I always appreciate the optimism and never lose hope in everything," he said.  
Alongside hits by Đuc Huy such as Cơn Mưa Phun (The drizzle), Đường Xa Ưot Mưa (Rainy Long Road), Mau Mắt Nhung (Velvet Eyes), Mot Tình Yeu (The Only Love), and Them Mot Lần Nữa (One More Time), the album also features lesser-known pieces, including Xin Mot Ngay Mai Có Nhau (Wishing to Have Each Other Someday), and Tình Yeu Voi Đi (Love Gone Quickly).
Diva Ha Trần duets with Dũng on the songs Nếu Xa Nhau (If We Are Apart) and Mua He Đẹp Nhất (The Most Beautiful Summer).
Singer Dũng (left) together with jazz musician Tuấn Nam, who is Director of his album and show, at a press conference in Ha Noi on Wednesday. Photos courtesy of organiser
Director of the album and show, jazz musician Tuấn Nam, said: "The combination between the jazzy style of diva Ha Trần and the 'formal' style of Dũng, who is used to semi-classic and chamber music, has created 'chemistry' that will surprise anyone who has listened to Đuc Huy's music before."  
Diva Ha Trần, who lives in the US, will also be the special guest at Dũng's show.
"I am so lucky to have the chance to cooperate with Ha Trần when she came back to Viet Nam last month to join the show of her best friend, divo Tung Dương," Dũng said.
Alongside the physical version, the album will also be available on digital music platforms iTunes and Spotify.
At the press conference, Dũng revealed plans to release an LP version of the album.
"However, due to tough requirements on quality of the vinyl record, the LP version will be available for fans in October," he said.
During the show, Dũng will perform a repertoire featuring songs from his newest album alongside favourites by other songwriters.
Nam Jazz Night led by musician Tuấn Nam, who studied at the Malmo Academy of Music for three years, is expected to offer a jazzy addition to Dũng's performance.   
The show Mot Tình Yeu will take place at the Ha Noi Opera House for one night only on March 20. VNS
TAG: