HCM City offers cultural activities for Tết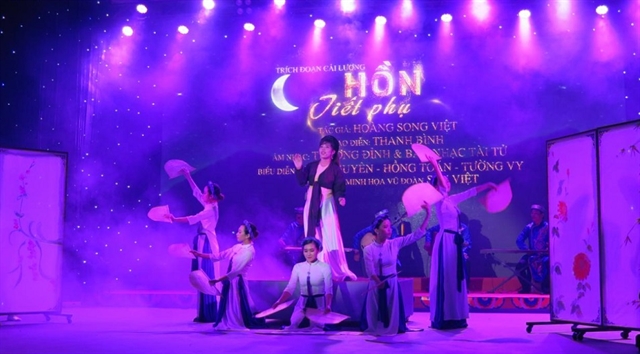 Traditional artists will perform at the Nhạc Hoi Đờn Ca Tai Tử Nam Bo (South Folk Music Festival) in front of the city's Opera House on Đồng Khởi Street, District 1, on January 30. The event is among many cultural activities organised by the city's Department of Culture, Sports and Tourism and its partners to celebrate Tết. (Photo courtesy of the organiser)
HCM CITY — A series of cultural activities celebrating Tết (Lunar New Year), which begins on February 12, will be organised next week in HCM City.
A traditional music festival titled Nhạc Hoi Đờn Ca Tai Tử Nam Bo (South Folk Music Festival) will take place in front of the city's Opera House on Đồng Khởi Street, District 1, on January 30.
The two-day event, organised by the city's Department of Culture, Sports and Tourism, will feature dozens of artists from traditional art troupes in the city and neighbouring provinces. 
Hundreds of songs and instrumental music pieces will be performed. Patriotism, peace, love, youth and spring will be the event's themes. 
Highlighted songs will include Dạ Cổ Hoai Lang (Night Drumbeats for an Absent Husband) written in 1919 by well-known composer Cao Văn Lầu, a native of the Mekong Delta province of Bạc Lieu. The song tells of the love, anguish and pride of a young woman watching her husband fight for the country.  
Võ Trọng Nam, deputy director of the department, said the festival would give people, particularly youth, the opportunity to appreciate and preserve the region's traditional music during Tết. 
"Tai tử music is considered the prototype for vọng cổ (nostalgic tunes) and cải lương (reformed opera) of southern Viet Nam. It began more than 100 years ago and was recognised as an Intangible Cultural Heritage of Humanity by UNESCO in 2013." 
The city will open the Tết Flower Market with the theme of Tren Bến Dưoi Thuyền (Flowers on the Boats along the Wharf) on District 8's Nguyễn Văn Của Street on February 6. 
Hundreds of indigenous flowers, bonsai plants and trees, provided by florists and farms from southern provinces, will be displayed.  
A photo exhibition of late President Hồ Chí Minh and the city named after the President will open on February 3 on Đồng Khởi Street. 
The event will include photos and documents on the life and career of the President and the city's achievements in economy, society and culture, and international integration. 
The annual HCM City Tết (Lunar New Year) Book Fair will open on Nguyễn Văn Bình Street on February 9. The fair will display several thousands of book titles from four local major publishers and book distributors, including the HCM City Book Distribution Corporation and Phương Nam Books.
Many books will feature topics on politics, history and culture to mark the 91st anniversary of the Communist Party of Viet Nam (February 3). 
Cultural centres around the city will also organise cultural programmes to welcome Tết. These events are expected to attract several thousand people and children at the weekend.— VNS
TAG: