Ambassador to promote Swedish literature in VN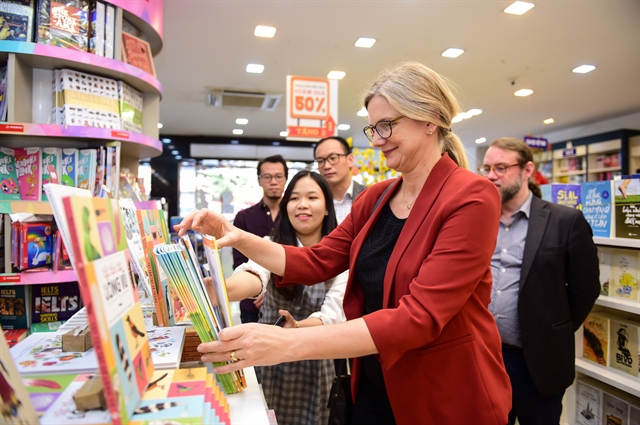 Swedish Ambassador to Viet Nam Ann Mawe praised Vietnamese book distributors' efforts to offer Swedish literary works to local readers. — Photo courtesy of the book distributor
HCM CITY — Sweden's Ambassador to Viet Nam Ann Mawe plans to promote both Vietnamese translations of Swedish literature and Swedish translations of Vietnamese literary works.
During the ambassador's recent business trip to HCM City to discuss Sweden and Viet Nam's corporation in the cultural sphere, she met with Huy Hoang Books, one of the city's distributors who introduced Swedish publications to local readers.
The distributor has published several Swedish classical works, such as children's books Pettson and Findus, and Mamma Moo.
Pettson and Findus, written and illustrated by author Sven Nordqvist, features an old farmer and his cat who live in a small ramshackle farmhouse in the countryside. The first book of the series was published in 1984.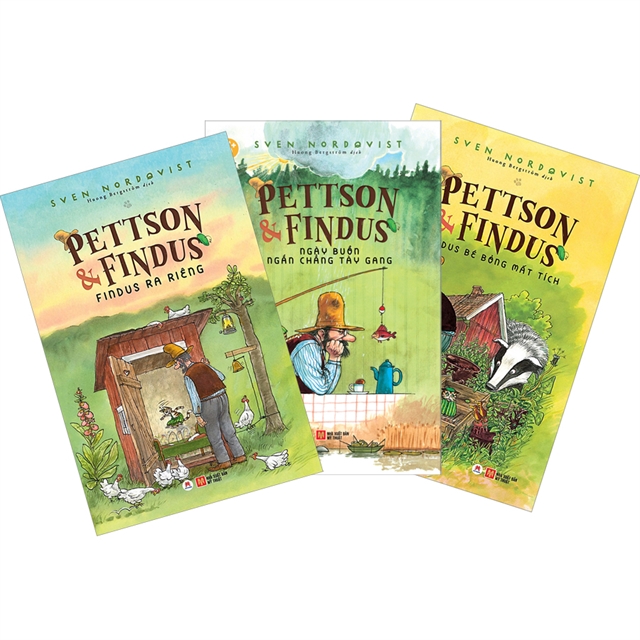 Pettson and Findus, a series of children's books written and illustrated by author Sven Nordqvist, is one of a number of Swedish literary works released by Huy Hoang Books. — Photo courtesy of the book distributor
Mamma Moo is about a talking cow named Mamma Moo and a crow, her best friend. The series is written by Jujja Wieslander and illustrated by Sven Nordqvist.
The Swedish books were published by Swedish publishing foundation Natur and Kultur, and are translated in more than 30 languages.
Under its plan, Huy Hoang Books will publish dozens of famous Swedish book titles for children and teenagers, especially works for minority groups in society.
Ambassador Mawe said she hoped the publication and translation of Swedish literary publications would promote cultural exchanges between the two countries.
She also expects more Vietnamese literary works to be translated and introduced to Swedish readers.
The ambassador plans to organise book introductions and exchange meetings with authors to help both Vietnamese and Swedish readers approach both countries' publications.
During her trip to HCM City, the ambassador and Christer Falk, the Swedish Embassy's new cultural affairs officer, also met with Võ Trọng Nam, deputy director of the HCM City Culture and Sport Department, and representatives from the HCM City Conservatory Music, Soul Music and Performing Art Academy.
They discussed the two countries' cooperation in music, media, film, and gaming and e-sport. — VNS
TAG: