Hoi An's craft villagers make clay buffalo in hope for thriving year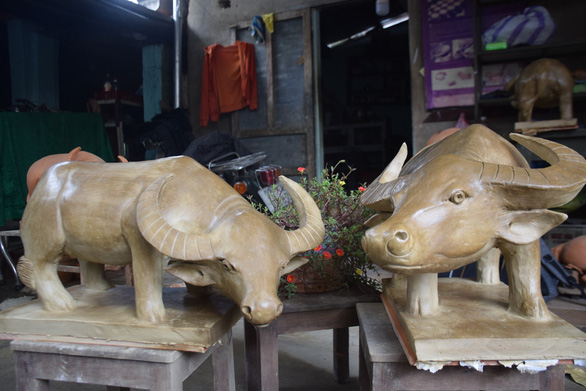 These days, locals in Thanh Ha Village, located in the namesake ward of Hoi An City in central Quang Nam Province, have been busy creating sets of clay buffalo, in the hope that the zodiac sign of the 2021 Lunar New Year will bring about a year full of prosperity and luck.
Thanh Ha Village, at 500 years old, is famous for its traditional craft of making pottery products and a tourism hot spot in central Vietnam.
At the end of every lunar year, demand for Thanh Ha pottery products increases, according to Nguyen Van Hoang, a 37-year-old villager.
Thanh Ha pottery has distinguished itself from others thanks to its diverse colors.
The villagers use clay from the Thu Bon River to make pottery products.
Nguyen Van Hoang creates a clay buffalo at Thanh Ha Pottery Village in Hoi An City, Quang Nam Province, Vietnam. Video: M.T. / Tuoi Tre
To celebrate the 2021 Lunar New Year which ushers in the Year of the Buffalo, they have created clay buffalo in a variety of sizes and designs.
The creation of buffalo statues requires meticulousness, ingenuity, and persistence, Hoang said.
Artisans have to figure out an appropriate firing temperature, otherwise, they will break.
Nguyen Hao, deputy head of Thanh Ha Pottery Village, said output for this Lunar New Year has decreased compared to previous years, as Hoi An's tourism has been severely affected by the ongoing COVID-19 pandemic and a string of natural disasters last year.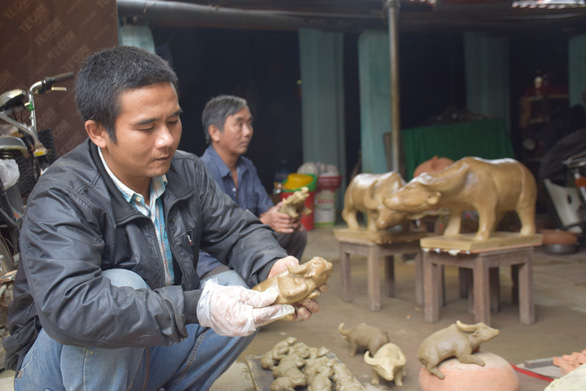 Nguyen Van Hoang creates a clay buffalo at Thanh Ha Pottery Village in Hoi An City, Quang Nam Province, Vietnam. Photo: D.T. / Tuoi Tre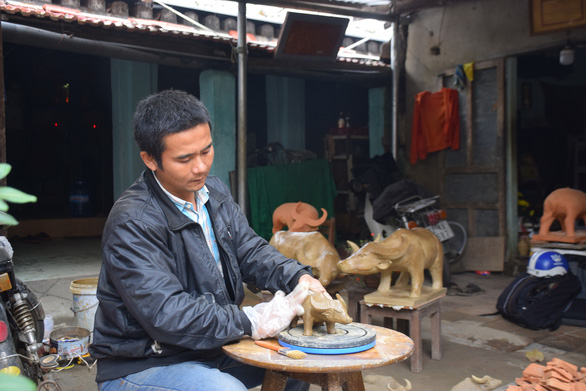 Nguyen Van Hoang creates a clay buffalo at Thanh Ha Pottery Village in Hoi An City, Quang Nam Province, Vietnam. Photo: D.T. / Tuoi Tre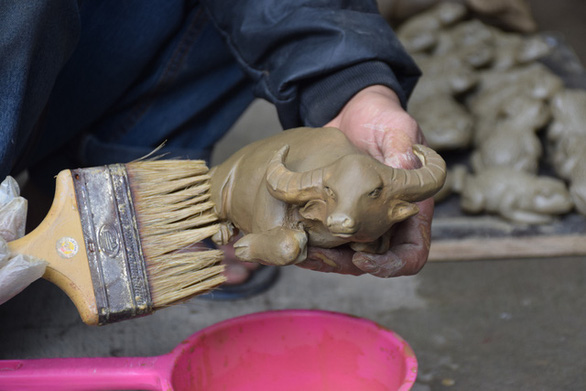 Nguyen Van Hoang creates a clay buffalo at Thanh Ha Pottery Village in Hoi An City, Quang Nam Province, Vietnam. Photo: D.T. / Tuoi Tre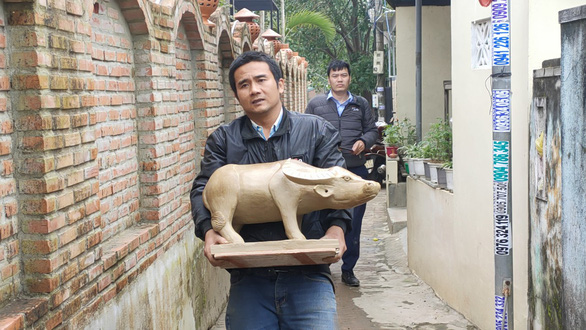 Nguyen Van Hoang brings a large-sized clay buffalo to the firing process at Thanh Ha Pottery Village in Hoi An City, Quang Nam Province, Vietnam. Photo: D.T. / Tuoi Tre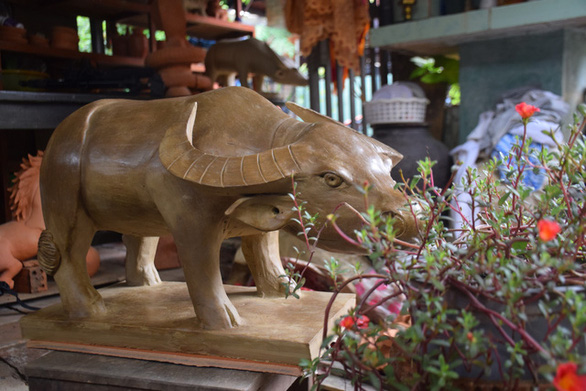 A clay buffalo is featured in standing posture at Thanh Ha Pottery Village in Hoi An City, Quang Nam Province, Vietnam. Photo: D.T. / Tuoi Tre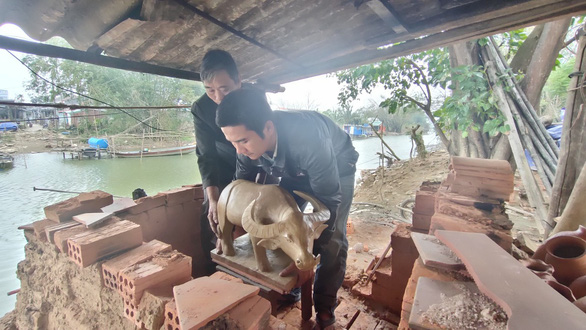 Nguyen Van Hoang brings a large-sized clay buffalo to the firing process at Thanh Ha Pottery Village in Hoi An City, Quang Nam Province, Vietnam. Photo: D.T. / Tuoi Tre
TAG: