Pop stars to perform in TV show to welcome spring, Tết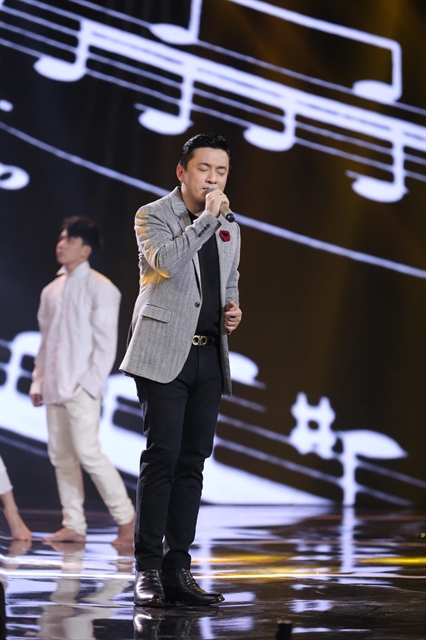 Pop star Lam Trường, who was famous in the 1990s, and young singers will perform at a special TV show 'Xuan Ve Miền Trung' (Spring in the Central) on VTV8 of Viet Nam Television in January 23 to welcome Spring and Lunar New Year festival. Photo courtesy of the organiser
HCM CITY— Dozens of singers will perform in a special music TV show next week to welcome Spring and Lunar New Year festival which falls on February 12 this year.   
The event, called Xuan Về Miền Trung (Spring in the Central), will feature pop stars Lam Trường and Mỹ Le, young singers Lan Phương and Thanh Tra, and dance troupes.
Vietnamese-American singer Hồ Le Thu will be included.
Singers will perform new songs composed by professional and amateur musicians participating in a composition contest launched by Le Trần Media in December.
The contest aims to entertain and encourage people living in the flood-affected central provinces such as Quảng Bình, Ha Tĩnh, Thừa Thien Huế, and Quảng Ngãi in October.  
Songs in pop, dance and electronic music on themes related to love and life will be included.
Featured works include Gửi Lại Đong Ba (Love for Đong Ba District of Thừa Thien Huế), Miền Trung va Nỗi Nho  (Thinking of the Central), Bão Ơi (The Storm) and Xuan Về Miền Trung (Spring in the Central).
Vietnamese dances will be featured.
"Through our concert, we wanted to celebrate life and love. We also wanted to show our love for the Central region and people," musician and the event's art director Minh Nhien, said.
According to Nhien, the performers will not receive payment.
The event, Xuan Về Miền Trung, will air at 2:40pm on January 23 on VTV8 channel and YouTube.—
Source: https://vietnamnews.vn/life-style/855824/pop-stars-to-perform-in-tv-show-to-welcome-spring-tet.html
TAG: