City publishing house to reprint author Ánh's best-selling books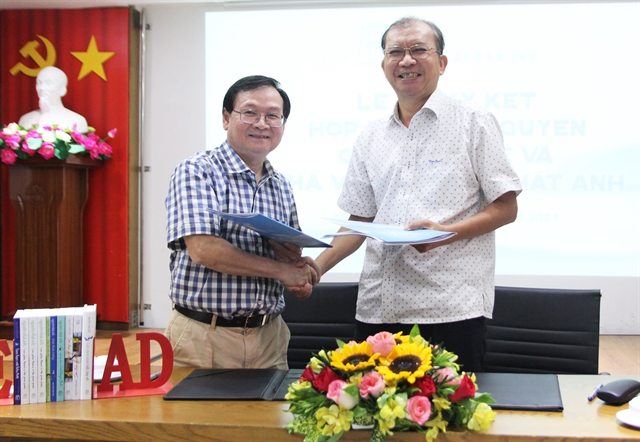 HCM City-based Trẻ (Youth) Publishing House has signed a five-year copyright deal with best-selling author Nguyễn Nhật Ánh (left), one of Viet Nam's most prolific children's book writers. Photo courtesy of the publshing house
HCM CITY —HCM City-based Trẻ (Youth) Publishing House has signed a five-year copyright deal with best-selling author Nguyễn Nhật Ánh, one of Viet Nam's most prolific children's book writers.
The deal grants the publishing house exclusive rights to the writer's 49 famous novels and short stories.
The publishing house will soon launch e-book versions of two titles Kính Vạn Hoa (Kaleidoscope) and Đảo Mong Mơ (The Dreamlike Island).
Kính Vạn Hoa includes 54 parts featuring adventures of teenagers Quý, Long and Hạnh, which were published in the mid 90s and quickly became a hit.
The work was adapted into a TV series in 2005, attracting millions of children and adult viewers.
Đảo Mong Mơ, which was released in 2010, is about a dream of a 10-year-old boy named Tin who is lost on a desert island. The book sold more than 10,000 copies in the first weeks of its release.
The publishing house also reprinted Ánh's bestselling books since the 1990s, such as Trưoc Vòng Chung Kết (Before the Final), Thằng Quỷ Nhỏ (The Mischievous Boy), and Chu Be Rắc Rối (The Trouble Boy). These books are still popular today.  
Dương Thanh Truyền, acting director of Trẻ Publishing House, said: "The Trẻ Publishing House has accompanied author Nguyễn Nhật Ánh for 30 years. And we continue our journey to bring his books to children and teenage readers across the country."
Ánh began writing in 1984 and is known for his simple style and accurate depiction of children's minds.
His books like Cho Xin Mot Ve Đi Về Tuổi Thơ (Give Me a Ticket Back to Childhood), Lam Bạn Voi Bầu Trời (Being Friends with the Sky), and Toi La Beto (I Am Beto) are favourites of thousands of children and teenagers around the country.
Published in 2007, Cho Xin Mot Ve Đi Về Tuổi Thơ, a story about an urban boy named Mui, won the Southeast Asian Writers Award presented by the Thai royal family in 2010. The work has since been translated into Thai and published by Thai publisher Nanmee Books.
Many of Ánh's books have been adapted into movies, such as Hoa Vang Tren Cỏ Xanh (Yellow Flowers on Green Grass), Co Gai Đến Từ Hom Qua (The Girl Comes from Yesterday) and Mắt Biếc (Blue Eyes),
The films are among the highest-grossing productions in the country's movie industry. They have won several awards at local and international film festivals.
Source: https://vietnamnews.vn/life-style/855198/city-publishing-house-to-reprint-author-anhs-best-selling-books.html
TAG: