School children in Hau Giang's remote area welcome new school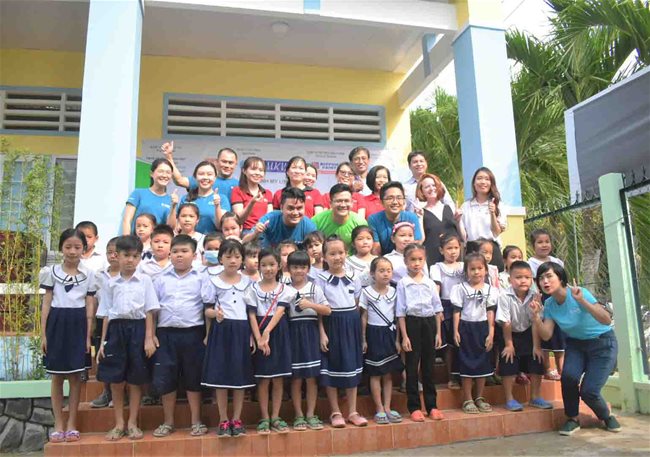 Students of the Kim Dong Primary School and representatives of the donors pose for a photo in front of the new facility – PHOTO: COURTESY OF SAIGONCHILDREN
HCMC – More than 90 students from the Kim Dong Primary School in a remote area of Hau Giang Province can now enjoy new school facilities and an improved learning environment as the Saigon Children's Charity (saigonchildren) and donors inaugurated a school building project on December 8.
The project offers one new classroom, one toilet block and one playground, with a total area of 357 square meters for the primary school in Phung Hiep District.
As part of the inauguration ceremony, BASF and their partners donated a children's book library, while HP donated a computer along with a printer to support teaching and learning at the school.
At the ceremony, Angelique Masse Nguyen, head of Fundraising and Communications at saigonchildren, said, "Building schools in remote areas is one of our core programs to offer disadvantaged children access to education. When we build a school, we are in fact contributing bricks to build a generation's future."
"Despite 2020 being a challenging year for many of us, BASF is proud that we and our valued partners still made tremendous efforts to continue our support to help schoolchildren from remote communities get better access to quality education," said Erick Contreras, managing director of BASF Vietnam.
"With this fifth school we have renovated with our partners, we want to help nurture Vietnam's next generation and demonstrate our commitment to supporting Vietnam's sustainable development," he added.
Before the renovation, the schoolchildren attended their classes in rundown facilities that were built in 1996 with basic structures and materials, therefore negatively affecting the health and safety of the teachers and students.
During the renovation, the schoolchildren had to switch to a temporary classroom in a local resident's house. The new facilities including a classroom, a toilet and a playground will not just give them a safer and more comfortable place to learn, but also help them practice their hygiene and develop various skills through play.
Located over 270 kilometers away from HCMC, Phung Hiep is one of the poorest districts in the Mekong Delta province of Hau Giang, where 11% of the total number of households are classified as poor. A study conducted by the Ministry of Education and Training showed that less than 50% of primary schools in the province were built with proper concrete structures.
Source: https://english.thesaigontimes.vn/80099/school-children-in-hau-giang%e2%80%99s-remote-area-welcome-new-school.html
TAG: