Music researcher Nguyễn Vĩnh Bảo dies aged 103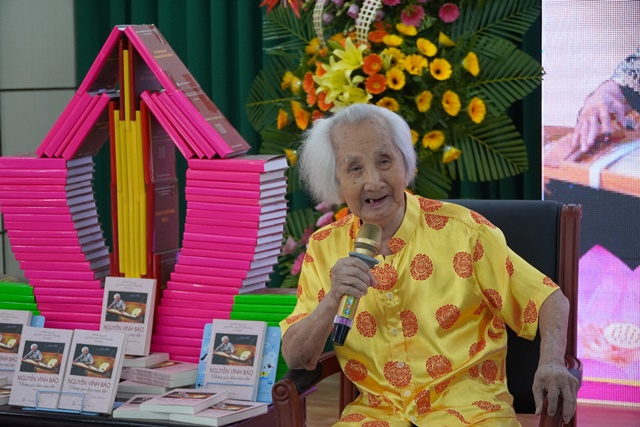 Musician and researcher Nguyễn Vĩnh Bảo passed away at his home in Đồng Thap Province on Thursday. He was 103. Photo from baodongthap.vn 
ĐỒNG THÁP Musician and researcher Nguyễn Vĩnh Bảo passed away at his home in Đồng Thap Province on Thursday at the age of 103.
Bảo made significant contributions to researching, preserving and developing traditional music, particularly tai tử music.
Tai tử music is considered the prototype for vọng cổ (nostalgia) and cải lương (reformed opera) of the south. It began about 100 years ago and is performed at traditional festivals, weddings and death anniversaries in southern provinces.
In 2013, it was recognised as an Intangible Cultural Heritage of Humanity by UNESCO.
Le Hồng Phưoc, a researcher of history and culture of the HCM City University of Social Sciences and Humanities, said: "Musician Bảo had come along with traditional Vietnamese music for a century. He experienced the ups and downs of southern tai tử music and cải lương since the arts began 100 years ago."
Bảo was born into a family with a tradition of music in the southern province of Sa Đec (now Đồng Thap) in 1918.
He wrote his first pieces of tai tử when he was just six. They are for the kìm or nguyet (two-chord guitar) and nhị (two-chord fiddle), two iconic Vietnamese instruments.
In 1955 he worked as a lecturer at the Sai Gòn National Music School. He passed on the torch to several generations who have gone on to develop traditional music.
He played many instruments like the đan bầu (monochord) and đan tranh (16-chord zither). He improved the latter, creating zithers with 17, 18 and 19 chords that are more melodious.
Bảo was invited to perform and talk about Vietnamese music in Japan in 1969.
A year later he was invited to the US by Southern Illinois University, where he spent two years teaching Vietnamese music.
He also showed his skill at making guitars and violins at several universities and cultural centres in France.
Bảo brought Vietnamese music to the world through his album Nhạc Tai Tử Nam Bo (Southern Folk Music), performed along with late researcher Trần Văn Khe. The album was recorded by Ocara and UNESCO in Paris, France in 1972.
He has given many talks on traditional music to locals and foreigners, including students and artists.
He wrote and edited many books and documents on traditional music and how to play music in Vietnamese, French and English.
In 2005, the Government conferred on Bảo the Đao Tấn Award for his contribution to tai tử music.
In 2008, he received the Officier des Arts et des Lettres from the French government in recognition of his contributions to art and literature.
In 2014, he was conferred the Prime Minister's Certificate of Merit for his contributions to Vietnamese music.
The Phan Chau Trinh Awards 2015 granted Bảo the culture and education prize for his research and preservation of traditional southern music.
In 2015, Đồng Thap Province released a book titled Nguyễn Vĩnh Bảo – Những Giai Đieu Cuoc Đời (Nguyễn Vĩnh Bảo – Melodies of Life) and reprinted it last year. 
The book features photos of Bảo's daily life and his career, as well as articles about his great contributions to preserving and developing tai tử music.
The book was written and compiled by well-known Vietnamese music researchers led by Professor Nguyễn Thuyết Phong, and printed by the Viet Nam Writers' Association Publishing House.
The province has gifted copies of the book to schools and libraries to encourage young people to learn about traditional music.
In 2018, the province launched an exhibition hall to showcase Bảo's works and documents about his life and career.
The funeral will be held from today in Cao Lãnh City in Đồng Thap Province until January 10.
Source: https://vietnamnews.vn/life-style/854251/music-researcher-nguyen-vinh-bao-dies-aged-103.html
TAG: