Record breaker Tùng Dương wins big at music awards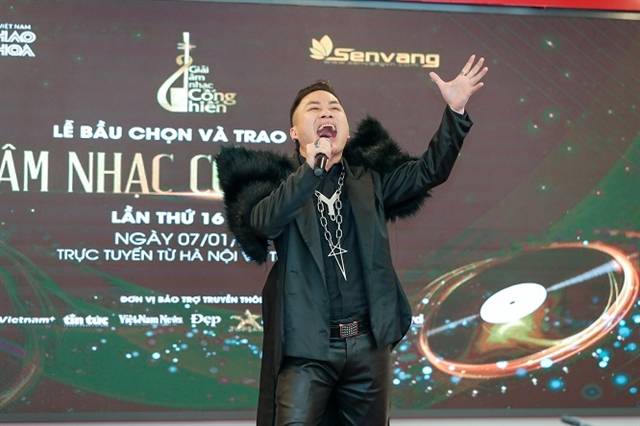 The 16th Devotion Music Awards' big winner was singer Tung Dương. Photo courtesy of Thể Thao Văn Hóa
HÀ NỘI Singer Tung Dương won three awards at the 16th Devotion Music Award organised Vietnam News Agency's Thể Thao & Văn Hóa (Sports & Culture) daily. 
Dương's album Con Người (Human) was named the Best Album of The Year while his concert of the same name won Show of The Year. Dương also chosen as Singer of The Year. 
His album Human album has 12 songs composed by songwriters Duy Hung, Bui Caroon and Sa Huỳnh. The concept album was unified by the theme of being dedicated to earthlings.
This is the first time Dương has sung progressive rock. He also set a record at the Devotion Music Award winning a total of 13 awards. 
"Devotion Music Award is a motivation for me," said Tung Dương at the ceremony in Ha Noi on Thursday. 
"The award also helps me to continue to have creativity in my path."
Producer of The Year award went to Hoang Touliver. He made his name on the music show Rap Viet which is aired on HCM Television's channel 2. 
Hoang is DJ-music producer and composer of electronic songs that are popular among youngsters. 
The show Rap Viet won Music Programme of The Year. Rap Viet is one of the first competitions seeking talented rappers to be aired on Vietnamese television. It is adapted from The Rapper of Thailand.
The second episode of Rap Viet, which aired on August 8, attracted more than 576,000 concurrent viewers, a record for a reality TV show in Viet Nam.
The full video of the performances of the contestants in the first episode of Rap Viet, uploaded on YouTube, has topped 19 million views up to date. 
In other categories, Music Video of The Year was won by Đi Về Nha (Go Home) while musician Nguyễn Minh Cường's Hoa Nở Khong Mau (Flowers Bloom Without Colour) picked up the Song of The Year title.
Cường also became the Musician of the Year. Rap Viet's winner Chau Hải Minh was the best New Artist. 
The annual Devotion Music Awards began in 2004 to promote Vietnamese music and honour artists who have made significant contributions to the industry.
The awards aim to promote Vietnamese music and honour artists who make significant contributions to the industry with prizes decided by 100 art journalists from from Ha Noi and HCM City.
Source: https://vietnamnews.vn/life-style/853937/record-breaker-tung-duong-wins-big-at-music-awards.html
TAG: