Jarai artists sing and tell indigenous tales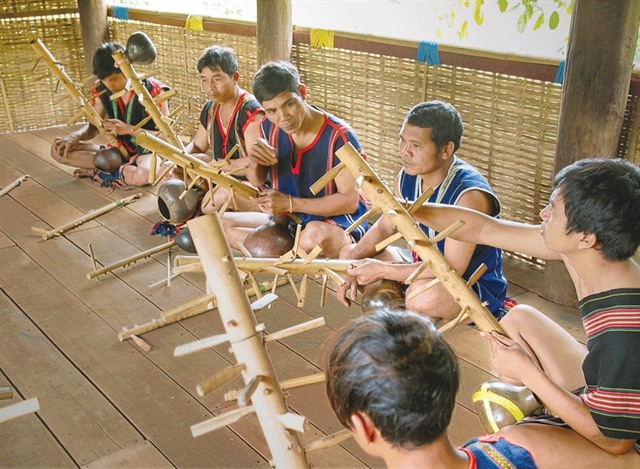 Rơ Chăm Tih (third left) plays a musical instrument together with other Jarai men. Together with Ksor Sep, the artist will play traditional Jarai musical instruments, sing and tell the audience Jarai tales at Manzi tomorrow night. Photo tinhuygialai.org.vn
HÀ NỘI — Manzi will host a special night of music and discussions featuring two Jarai ethnicity artists today.  
During the event titled 'Am I A Man Who Dreamt of Being a Sound, or Am I a Sound Dreaming that I Am a Man?', the artists, Rơ Chăm Tih and Ksor Sep, will play traditional Jarai musical instruments such as the k'ni, ting ning and t'rung. They will also sing and tell the audience epic Jarai tales.
The night will take the audience on an auditory journey into long-unheard music and epics of Jarai people, bring them an extraordinary experience of indigenous culture in the Central Highlands.
The event will start at 7.30pm. Manzi Art Space is at 14 Phan Huy Ích Street. A minimum contribution of VNĐ100,000 will be required from each attended and collected at the door during check-in prior to the event. All donations from the audience will be given to the artists.
The two artists took the guiding roles in Nguyễn Trinh Thi's video & sound installation entitled Landscape #4: How to Improve the World which is currently on display at Manzi Exhibition Space until January 10. —
Source: https://vietnamnews.vn/life-style/expat-corner/853540/jarai-artists-sing-and-tell-indigenous-tales.html
TAG: