Vietnamese traditional and contemporary music night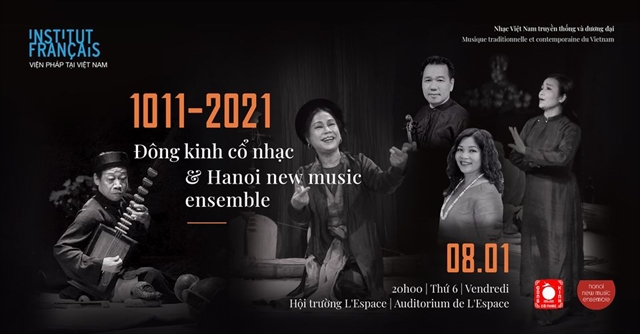 A music night featuring Đong Kinh Cổ Nhạc (Ancient Music Group of Tonkin) and the Hanoi New Music Ensemble will take place at L'Espace on January 8.
HÀ NỘI — Đong Kinh Cổ Nhạc (Ancient Music Group of Tonkin) will team up together with Hanoi New Music Ensemble to present a traditional and contemporary music night tomorrow at L'Espace.
The music night has been entitled 1011 – 2021, which comes from the fact that a new decade begins with the year 2021, and also in this year, Thăng Long – Ha Noi celebrates its 1,011th anniversary.
Đong Kinh Cổ Nhạc is reminiscent of the past. However, since its establishment, the artists have always tried their best to create a fresh appearance for traditional music. During the night, the artists will recreate an old music performance space without using any sound amplifiers.
Hanoi New Music Ensemble is the first professional contemporary chamber music group in Viet Nam. Established in 2015 to introduce Vietnamese contemporary music to the domestic and foreign public, the group's works are composed by contemporary Vietnamese composers.
During tomorrow performance, the ensemble will perform the music tunes from the work Five Elements by the late musician/composer Vũ Nhật Tan, who led the group in its very first days.
The music night will start at 8pm. L'Espace is at 24 Trang Tiền Street. Ticket costs VNĐ210,000. For L'Espace members and students, the price is VNĐ130,000 and VNĐ100,000, respectively. Tickets can be purchased at the L'Espace ticket counter or at ticketbox.vn/event/1011-2011-81306. —
Source: https://vietnamnews.vn/life-style/expat-corner/853538/vietnamese-traditional-and-contemporary-music-night.html
TAG: