Bitcoin is likely to bottom at $32,950 in the spring, according to Fundstrat
According to data from a technology analyst from Fundstrat by Tom Lee, Bitcoin is very likely to bottom out soon.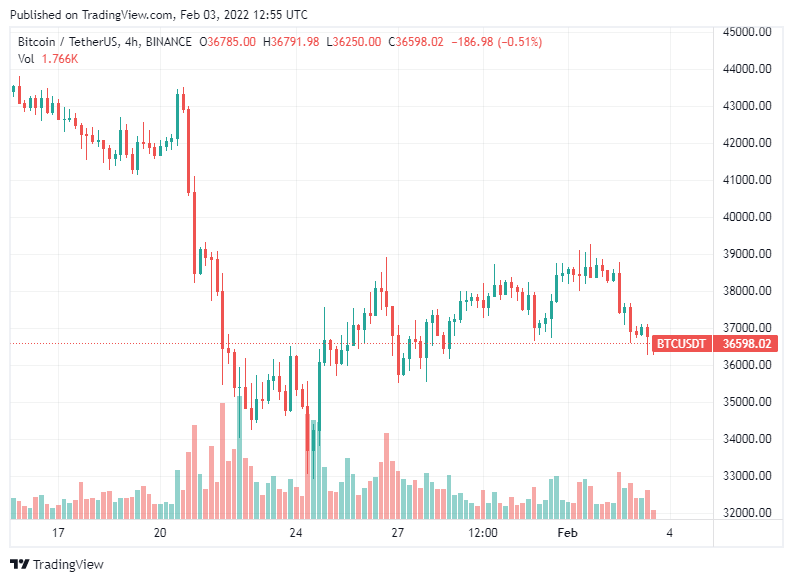 BTC price 4 hour chart | Source: Trade View
High probability of Bitcoin bottoming out in a few months next
Fundstrat Global Advisors' Mark Newton said on Bloomberg that there is a "high probability" of Bitcoin bottoming in the spring. It warns of bullishness for the top coin right now, as a new medium-term recovery trend has not yet started and the cumulative miners' surge over the past 2 weeks does not mean that the price will rise anytime soon.
A price drop below $35,500 will push Bitcoin to test the $32,950 region – the BTC low on Jan 24.
However, if Bitcoin moves above $40,000, it will be crucial for bulls, according to Newton. He believes Bitcoin is likely to continue falling until it breaks above this level.
For the past few weeks, the bitcoin price has steadily declined. BTC and ETH are starting to show strong correlation with traditional assets, so the casual investor is also starting to follow crowd sentiment in the crypto space.
Noelle Acheson, head of market research at Genesis Global Trading Inc., is currently not bullish on Bitcoin, even in the near term. Cryptocurrency derivatives market indicators are neutral but still showing a negative bias.
Noelle said that the crypto market is currently in "wait and see" mode.
Winklevoss and the President of El Salvador also have a say
Tyler Winklevoss, co-founder of Gemini Exchange, has tweets to reassure his followers by saying Bitcoin is "not a faster horse, but a flying car".
Another big Bitcoin supporter is El Salvador President Nayib Bukele, to hope BTC's massive price surge is only a matter of time. According to him, the reason for this is that there are 50 million millionaires in the world and each of them would like to own at least one Bitcoin one day. Since only 21 million BTC can exist, this BTC demand will push the price up.
Watch Bitcoin Price Breakout
On-chain analytics firm Santiment suggests a key sign to watch for a Bitcoin price breakout, according to one of their latest tweets. Bitcoin and the broader crypto market have been under selling pressure before, with BTC price touching just $36,415 on Feb. 3.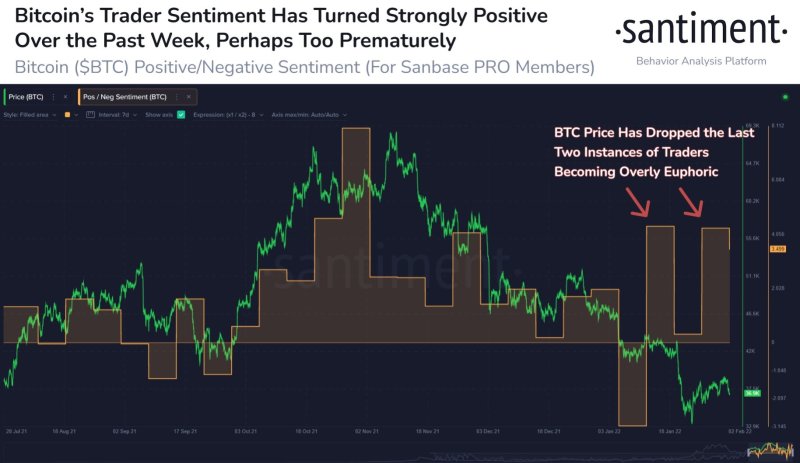 Bitcoin positive/negative sentiment | The source: mood
For the past week, Bitcoin has been steadily climbing as it recovered from the low of $32,933 hit on Jan. 24. Trader sentiment quickly turned positive as more bullish predictions were made. Santiment sees a rise in positive/negative sentiment as predictions across the crypto social platform have their second positive week in three months.
However, Bitcoin's journey above $39,000 was short-lived and was subsequently rejected. According to Santiment, trader sentiment turned very bullish quite early on, causing the market to decline. The negative correlation between sentiment and price remains as the on-chain analytics platform notes that crowd fear and impatience could be a key sign of a Bitcoin price breakout.
Join Bitcoin Magazine Telegram to follow news and comment on this article: https://t.me/coincunews
home home
According to AZCoin News
TAG: