Value locked in DeFi escalates with TVL polkadot jump, LUNA price falls 21%
As of Sunday, January 30, 2022, the leading smart contract protocol tokens by market cap totaled $592 billion, accounting for 32.66% of the crypto economy's $1.8 trillion billion. Meanwhile, total value (TVL) in decentralized finance logs is $192.42 billion, up 5.28% since Jan. 23.
TVL DeFi up more than 5%
At the end of the week, the cryptocurrency price recovered after the market carnage that took place 7 days ago. Over the past week, the two largest assets, BTC and ETH, have surged from 7% to 9%.
On Jan. 23, TVL fell below $200 billion in DeFi and hit a low of $182.76 billion. Since then, TVL has grown 5.28% to $192.42 billion, according to Defillama data.

Total Value Locked (TVL) in DeFi on Jan 30, 2022 | Source: Defillama
Curve Finance is currently available on 8 different blockchain networks, representing 9% of the $192 billion TVL with $17.31 billion locked. However, the TVL curve lost 11.21% over the week.
The second largest DeFi protocol is MakerDAO with $15.81 billion and the third largest is Convex Finance with $12.03 billion TVL. In terms of TVL through blockchain, Ethereum currently has $117 billion from $192 billion.
The $117 billion locked between 509 Ethereum DeFi protocols represents 60.8% of the total TVL DeFi as of January 30, 2022. In addition, Terra's blockchain has about 17 DeFi protocols and is today the second largest blockchain in terms of TVL in DeFi.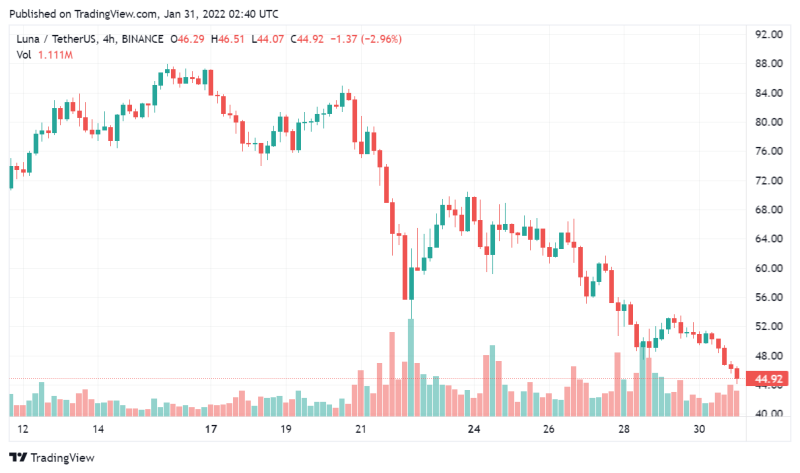 LUNA 4-hour price chart | Source: Trade View
While Terra has the second largest DeFi TVL, the network's native token, LUNA, has fallen significantly over the week, losing 21% in 7 days.
Terra has a TVL of $13.17 billion and the UST Anchor staking protocol accounts for 53.38% of that. Binance Smart Chain (BSC) holds the third largest TVL spot at $12.08 billion. The BSC DeFi protocol and decentralized exchange (DEX) pancakeswap are valued at $4.26 billion, which is 35.22% of the TVL of the BSC DeFi platforms.
Fantom (FTM) hit $9.42 billion TVL on Sunday and is the fourth largest DeFi TVL. Fantom's multichain has a dominance rate of up to 58.24% at $5.49 billion. Finally, the current 5th largest DeFi chain is Avalanche (AVAX) with $8.72 billion TVL, and Aave holds 27.33% of TVL with $2.38 billion locked.
One of the biggest gainers in 7 days in terms of TVL DeFi is Polkadot (DOT), up 47.89%. DOT currently has the 10th largest DeFi TVL with $1.24 billion locked.
Follow statistical by Dune Analytics, the TVL ratio of cross-chain bridges is up 13.5% in the last 30 days. As of January 30, 2022, $19.95 billion was locked in cross-chain bridging platforms, with Polygon dominating bridging TVL. Polygon has $5.4 billion today, while the second largest bridge TVL is Avalanche at $5 billion.
As one of the best smart contract protocols by market cap, the Telos TLOS blockchain token saw the largest gain in 7 days. The POA and LUNA token networks saw the largest weekly declines, representing 21.9% (LUNA) and 36.3% (POA).
Join Bitcoin Magazine Telegram to follow news and comment on this article: https://t.me/coincunews
Minh Anh
According to news Bitcoin
TAG: