Calm before the storm, ADA about to erupt?
ADA has been consolidating in a tight range for some time but looks like it will break out in the next few days.
Key support levels: $1, $0.92.
Key resistance levels: $1.1, $1.2.
ADA is floating between the key $1 support and $1.1 resistance and has been unable to break through for the past week. Last Wednesday the price tried to break this key resistance but sellers pushed ADA back into a consolidation range.
At the time of writing, the price continues to consolidate on low volume (probably due to the weekend). This predicts a big move next week.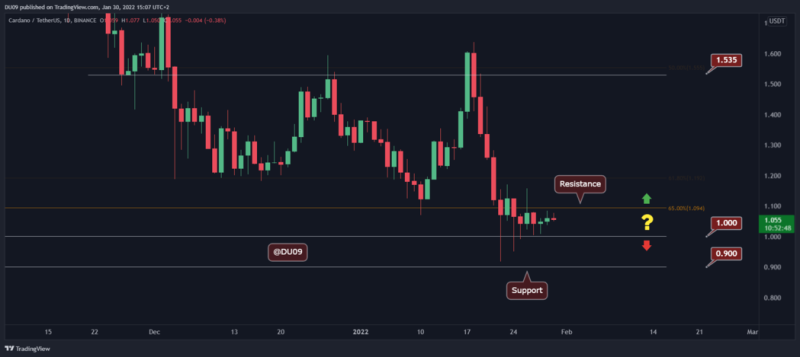 Source: TradingView
Technical indicators
Volume: Volume has decreased since the sell off and now both volatility and volume are minimal. This usually precedes a large move.
RSI: The daily RSI is attempting to move higher but is lacking momentum. The bulls are hoping the new week will provide the boost ADA needs to break out of the current range.
MACD: The daily MACD is still in the red but the histogram and moving averages are curving up. With luck, ADA can successfully break the resistance level and propel the price higher.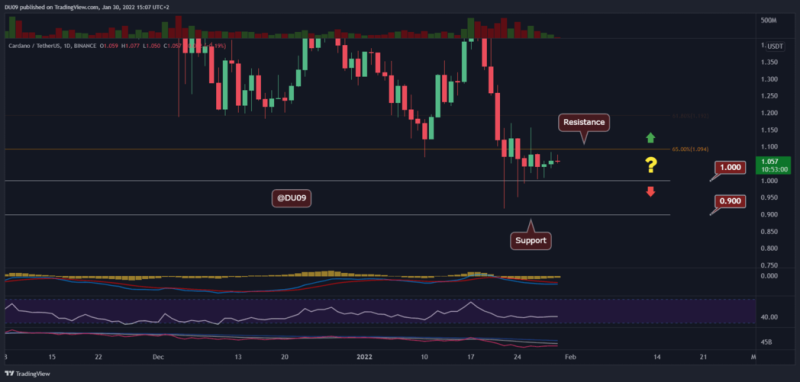 Source: TradingView
The current trend is neutral. ADA needs to break out of the range to reverse this trend and find the next direction.
Short term ADA price prediction
The current consolidation signals a quiet period for ADA with low volatility. The range between $1 and $1.1 is very tight and the price might break it in the next few days. Therefore, ADA is expected to make a major move next week as bears and bulls battle for dominance.
You can see the ADA price here.
Join Bitcoin Magazine Telegram to follow news and comment on this article: https://t.me/coincunews
Disclaimer: This article is for informational purposes only, not investment advice. Investors should research carefully before making a decision. We are not responsible for your investment decisions.
home home
According to Cryptopotato
TAG: