Bitcoin heading for $40,000, still oversold, while ETH is targeting $2,800-3,000
After two straight days of losses, both Bitcoin and ETH rallied strongly into the weekend, with the crypto market trading nearly 5% higher on Saturday.
Bitcoin
The world's largest cryptocurrency regained momentum on Saturday and is continuing today as bitcoin bulls appear to have returned to the race.
BTC/USD rallied to an intraday high of $38,576 after hitting a low of $36.211.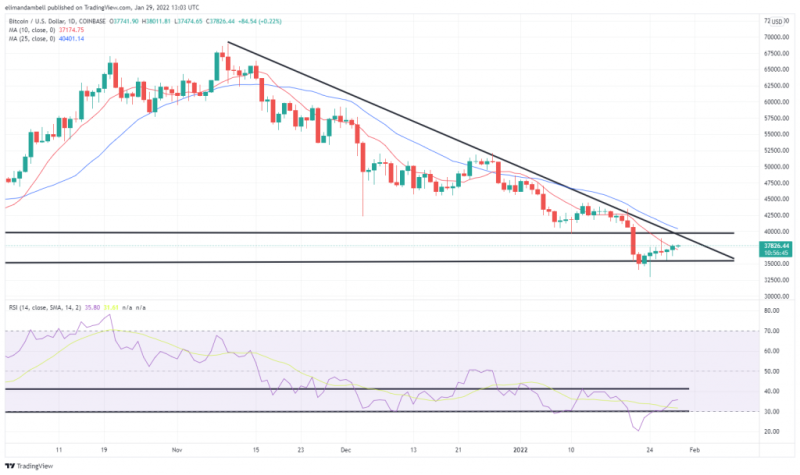 BTC/USD. Source: TradingView
Today's rally comes as Bitcoin's RSI appears to have surpassed the critical 30 level and is now heading towards 35.
Although still oversold, the breakout revived traders hoping to push BTC/USD to the $40,000 resistance level.
For the long term, the BTC/USD chart remains positioned in a descending triangle. However, the recent short-term rally has created a slight bottleneck in the price.
This, along with the possibility of the RSI rising to the next resistance point 41, could be enough to push the price above $40,000.
ETH
ETH traded 8% higher on the day, breaking recent resistance at $2,570.
Saturday's rally took ETH/USD to an intraday high of $2,635, its highest since Thursday.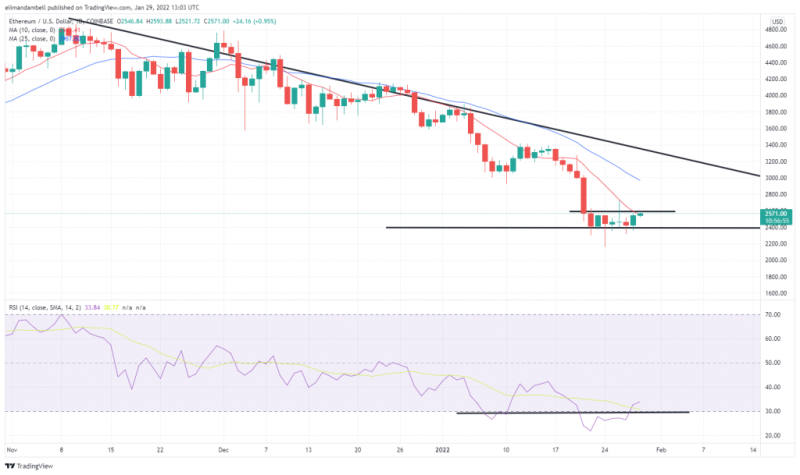 ETH/USD. Source: TradingView
Looking at the chart, the 10-day (red) and 25-day (blue) moving averages are still falling, but as the RSI turns higher, many will start anticipating a possible crossover.
In this case, the price can aim for a range between $2,800 and $3,000.
Join Bitcoin Magazine Telegram to follow news and comment on this article: https://t.me/coincunews
annie
According to Newsbitcoin
TAG: