Qubit Finance Hacked, Lost $80M, QBT Price Down More Than 20%
Qubit Finance, a decentralized money market platform that uses the speed, automation, and security of blockchain to efficiently and securely connect lenders and borrowers, was recently hacked under the report of auditing firm PeckShield.
The attacker took a large amount of xETH collateral and about $80 million from the pool's funds.
It seems the QBridge of @QubitFin is hacked to mint a massive amount of xETH collateral, draining the pool funds of around $80 million. Please note that we checked Qubit Borrowing, not QBridge! There's more to come…
— PeckShield Inc. (@speckshield) January 27, 2022
Blockchain journalist Wu Blockchain report that Qubit Finance attack address is 0xd01ae1a708614948b2b5e0b7ab5be6afa01325c7 and the stolen ETH, BTCB, DAI and other assets were exchanged to BNB. Currently, the wallet address has over 200,000 BNB worth nearly $80 million.
A few hours ago, the project's official Twitter account confirmed the hack, saying:
"The team is working with network and security partners to determine next steps and will continue to track attackers and the direction of movement of stolen assets. Additionally, the team contacted the hacker to agree on a bonus tier for asset recovery.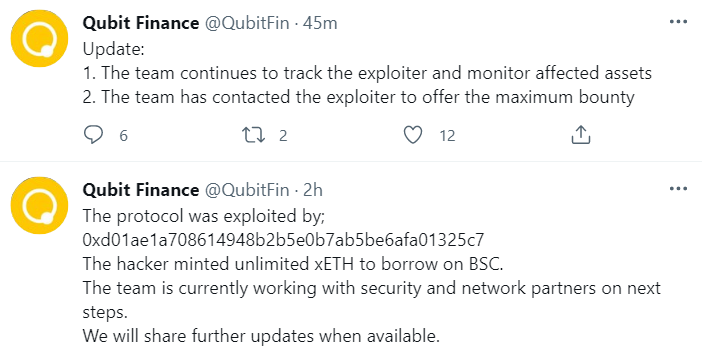 Source: Twitter
Original token price from Qubit, QBT, is down more than 21% from an intraday high of $0.0067 to a low of $0.0048.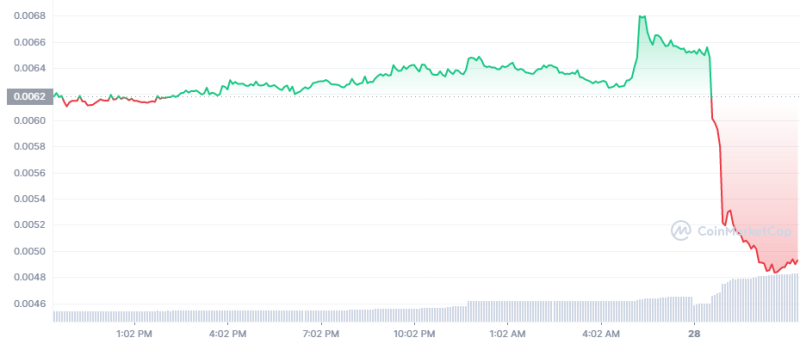 Source: Coinmarketcap
Join Bitcoin Magazine Telegram to follow news and comment on this article: https://t.me/coincunews
annie
Bitcoin Magazine
TAG: