Why did Ethereum rebrand ETH 2.0 as "consensus layer"?
In a bid to avoid future confusion in network terminology, the second-largest blockchain, Ethereum, has dropped old terms like "Ethereum 1.0" and "Ethereum 2.0" and replaced them with new names.
No more "ETH 2.0"
The Ethereum Foundation revealed this important step in a post blog that they will no longer use the terms "ETH 1.0" and "ETH 2.0" to describe ongoing upgrades to the blockchain.
According to the developers, the upgrades are now called "Execution Layer" and "Consensus Layer".
Specifically, ETH 1.0 – the current network consensus based on the Proof-of-Work (PoW) mechanism – is referred to as the "Execution Layer".
On the other hand, the much-anticipated ETH 2.0 upgrade using the Proof-of-Stake (PoS) mechanism is dubbed the "consensus layer."
Ethereum developers have been working to update the current PoW mechanism and merge it with the PoS chain. The process is expected to be completed by June this year.
With the upcoming PoS mechanism, Ethereum will no longer be dependent on the energy-intensive mining of new coins. Instead, validators will verify new transactions by committing their ETH holdings to the network.
why Right Change name?
According to the source, the Ethereum Foundation has changed its name to avoid confusion and misunderstandings regarding ETH 1.0 and ETH 2.0.
They note that some users "intuitively think ETH 1.0 comes first and ETH 2.0 comes later. Or ETH 1.0 will disappear after ETH 2.0 goes live. Neither is true."
Another reason given is the prevention of fraud. They emphasize that scammers rarely use the attached numbers to scam unsuspecting people over the network.
They often trick users into thinking they need to upgrade to ETH 2.0 from their current consensus mechanism. As a result, most confuse them and lose money.
Ethereum's Arrow Glacier update
Recently Ethereum implemented the Arrow Glacier update which was intended to delay the "difficulty bomb". This mechanism will hamper ETH mining around the middle of this year.
It is expected that after the switch from Ethereum to the PoS model, the "bomb" will no longer exist on the network as validators require less processing power to verify transactions.
Overall, users of the Ethereum blockchain can expect that once the upgrade is complete, the network will be more scalable, secure, and sustainable than most of its current competitors.
At the time of writing, the network's native token ETH is currently trading at $2,641, up almost 10% over the past 24 hours but down almost 17% over the past 7 days.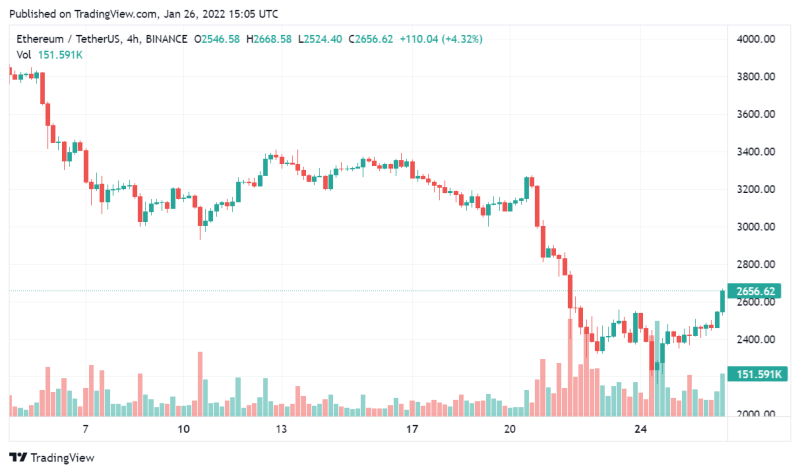 Source: Trade View
Join Bitcoin Magazine Telegram to follow news and comment on this article: https://t.me/coincunews
home home
According to Cryptoslate
TAG: