Crypto News Jan 26: ARK Invest predicts Bitcoin will hit $1 million by 2030 with Dogecoin, Etherscan, FTX, Polygon, Metaverse News
From saying bitcoin is still on the way to $1 million to now increasing DOGE trading. Here are some highlights from the crypto market.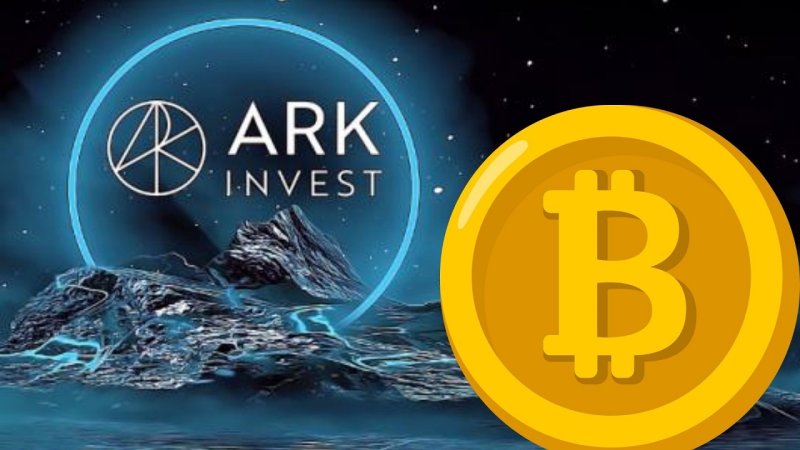 Bitcoin News
The well-known technology fund Ark Invest has been launched suspect for the digital asset industry and Bitcoin in particular.
Ark's analysis shows that the majority of Bitcoin investors are mature and hold the asset for long-term gains rather than short-term speculation. The analysis in the report is based on on-chain data such as Long-Term Holder Base and Aggregated Cost Base.
Both indicators provided are at ATH. The long-term holder base supports Ark's claim that the bitcoin market is moving from speculative to long-term, which can be considered "mature."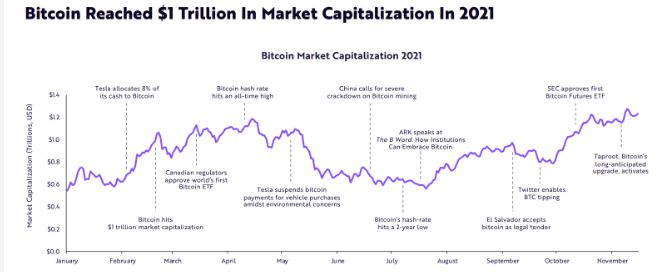 Indicator shows Bitcoin on the way to $1 million | Source: Ark Invest
Besides on-chain data, Ark also looks at bitcoin market data like the Transfer Value Index. As the report shows, Bitcoin has captured its market share as a payment network.
BTC trading volume has grown by 120% in 2021, reaching $12 trillion. As crypto adoption continues to grow, users are starting to use digital assets for both money transfers and regular transfers. With a variety of cryptocurrencies, customers can send large amounts of money abroad for significantly lower fees than regular bank transfers.
Another small bitcoin miner won a $215,000 block reward
Bitcoin mining for individuals has been impractical or unprofitable for years after the growth of large mining farms and pools, but that appears to be changing for some.
Individuals have turned to compact USB-based mining rigs, and some have hit jackpots. These miners are becoming increasingly popular and individual mining pools have sprung up to cater to them.
Tom's Hardware, a miner recently to handle A block using the rig has a hashrate of around 8.3 TH/s, yielding a block reward in BTC worth over $215,000.
Dogecoin news
Tesla founder and CEO Elon Musk urged McDonald's to accept Dogecoin as payment and posted his candid views on Twitter.
Pressure is mounting, with all eyes on the fast-food chain, to date, McDonald's has yet to accept crypto payments outside of El Salvador.
"I'll have a Happy Meal on TV when McDonald's accepts Dogecoin."
Musk's tweet sent Dogecoin's price up more than 6% in just a few minutes.
I'll eat a Happy Meal on TV when @MC Donalds Accept Dogecoin
— Elon Musk (@elonmusk) January 25, 2022
Whales now increase trade in DOGE
Follow statistical Powered by on-chain data platform WhaleStats, the top 1,000 whales on Binance Smart Chain (BSC) are currently trading far more DOGE than other tokens.
However, the most traded coin is still Ethereum and BTCB is the token with the highest USD equivalent in Wal wallets.
However, Dogecoin is not in the list of the 10 best-selling cryptocurrencies. But one of his clones, BabyDoge, is in second place.
DOGE is up more than 8% in the last 24 hours and is now at $0.1510 per token.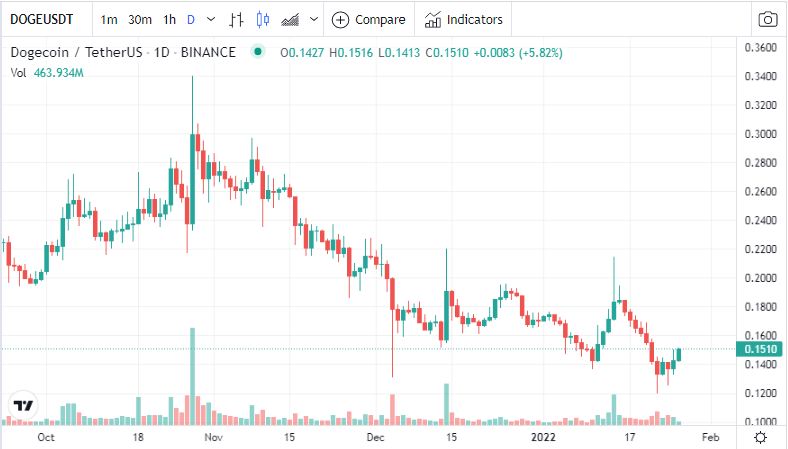 DOGE price chart | Source: TradingView
News Etherscan
The team behind popular blockchain browser and analytics platform Etherscan announced debut Ethereum-based wallet-to-wallet instant messaging service called "Blockscan Chat".
Blockscan is currently in beta testing mode and currently allows users to join instant wallet-to-wallet conversations, access chats from multiple devices, block spam or junk addresses, and receive browser notifications when a message is received.
While the new feature is a great way to chat anonymously with other people, e.g. B. to negotiate anonymous purchases, it could be particularly useful to deal with white hat hackers who often leave messages embedded in Ethereum transactions to communicate with individuals and mine cryptocurrency platforms.
FTX News
FTX.US, the offshoot of the US stock exchange FTX, has successfully closed its Series A financing round.
FTX US is raising $400 million from SoftBank, Paradigm and others in a deal that values ​​the crypto exchange at $8 billion https://t.co/DkVyoCw1UP
— Bloomberg Crypto (@crypto) January 26, 2022
According to the announcement, FTX.US has raised $400 million in a funding round, taking the company's valuation to $8 billion.
All major investment funds in the market are participating in the Series A round, including Paradigm, Temasek, Multicoin Capital, Lightspeed Venture Partners and SoftBank Vision Fund 2…
Message Polygon
Ryan Wyatt has left Youtube Gaming and is now pursuing a new path as CEO of Polygon Studios; The company was founded to build on the Ethereum sidechain Polygon.
Ryan Wyatt has announced his retirement as part of a move that will take him deep into the metaverse and crypto spheres.
In words End Emotionally shared on Twitter, Wyatt expressed his satisfaction and gratitude to the YouTube team for giving him a great experience. Wyatt is leaving YouTube to focus on building the Polygon ecosystem.
Metaverse Messages
Global investment bank Goldman Sachs suspect that the Metaverse could be an $8 trillion opportunity.
Goldman Sachs analyst Eric Sheridan explained the Metaverse prediction during a recent Exchange at Goldman Sachs panel entitled "Understanding the Metaverse and Web 3.0."
"Today we're looking at the digital economy, which is like 20%, 25% of the world economy. We see that the digital economy will continue to grow and, above all, the virtual economy will also grow within and alongside this digital economy," the analyst described.
Join Bitcoin Magazine Telegram to follow news and comment on this article: https://t.me/coincunews
Synthetic Team Cuong
Bitcoin Magazine
TAG: