Acala goes live on Polkadot
As the first project to win the Polkadot Parachain Location Auction, Acala has now launched a DeFi-focused network on the mainnet.
Acala start on polkadot
In one tweets On Jan. 25, Acala Network announced that its ACA token was "launched," while the team's Chief Growth Officer, Dan Reecer notice The network is preparing to go live today.
"Acala is building on a vision of HyFi, aka Hybrid Finance, to connect the world of Fintech Web2 and next-gen banking with DeFi to deliver better returns and financial outcomes for users. Don't use cryptocurrencies and don't need to touch complicated crypto technology like MetaMask or private keys," he wrote.
According to the project roadmap, the entire network launch process will be carried out in phases. The first tier is to allow users to send and receive ACA and participate in on-chain governance. Acala Network is said to have launched with over $600 million in aggregate value tied in Liquid Crowdloan DOT (LCDOT) tokens and has over 200,000 token holders worldwide.
Binance, the largest exchange in the world, has notification today that they will list tokens and open trading pairs against BTC, BUSD and USDT once they are transferrable on the mainnet.
Acala won the first polkadot parachain auction in November with over $1.27 billion DOT in community contributions. Parachains are individual, application-specific blockchains connected to Polkadot's relay chain. Acala won one of the 100 parachains available on Relay Chain in a candle auction at a price close to Moonbeam.
Acala Network advertises itself as a "DeFi-optimized Ethereum-compatible smart contract platform." The network will offer a range of financial products including a native decentralized exchange, a trusted liquid staking derivative, a decentralized stablecoin and an upgraded Ethereum Virtual Machine called EVM+.
Acala will launch these products in phases over a series of undisclosed dates. So far, Acala has only allowed the transfer of ACA tokens on the network. According to CoinGecko data, ACA is currently trading at around $2, bringing the project's market cap to around $139.7 million.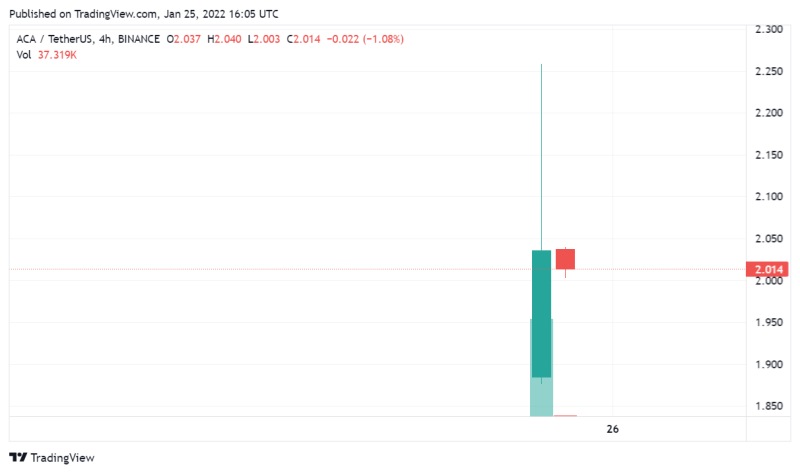 ACA 4-hour price chart | Source: Trade View
Join Bitcoin Magazine Telegram to follow news and comment on this article: https://t.me/coincunews
Minh Anh
According to Crypto Briefing
TAG: