Transaction volume on Fantom surpasses Ethereum as users look for profitable farming
Transaction volume on Fantom surpassed Ethereum for the first time on Monday, as investors looked for newer ways to harvest income and accumulate value.
Over the past 24 hours, more than 1.2 million transactions have been processed on the Fantom network, according to data from blockchain tracker Fantomscan. This is slightly higher than Ethereum's 1.1 million transactions, according to data from Ethereum tracker Etherscan.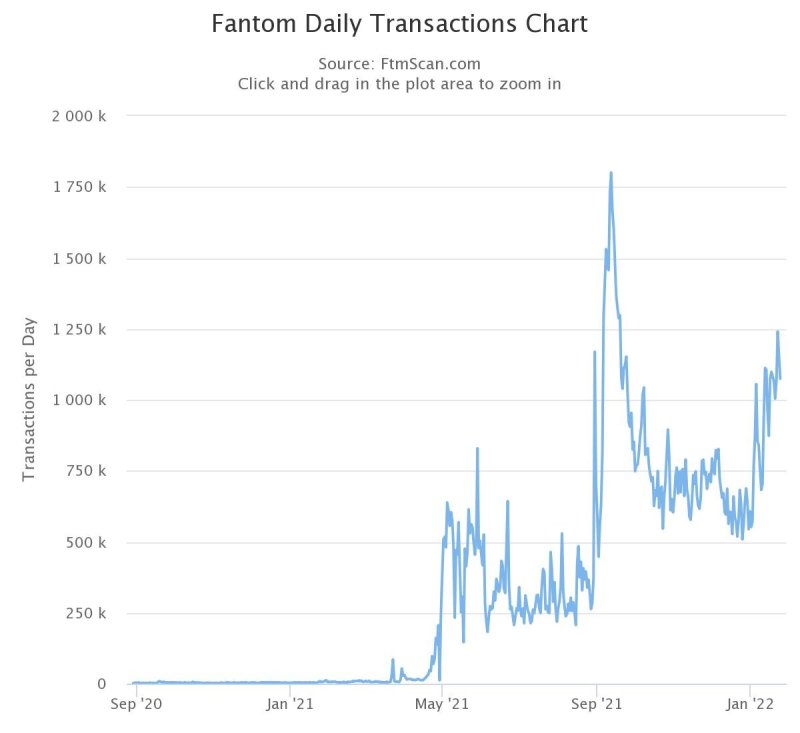 Daily transaction volume chart on Fantom | Source: FTMScan.com
With 55 validators running the network, Fantom was processing up to 8 transactions per second (tps) on Monday, compared to Ethereum's current levels of less than 2 tps. The number of transactions on Ethereum is currently at August 2021 levels, well below the May 2021 peak of 1.7 million daily transactions.
Fantom has totaled over 170 million transactions since its launch in December 2019, which is insignificant compared to Ethereum's 1.4 billion transactions since its launch in 2015.
However, Monday's numbers on Fantom are still below the all-time high of 1.8 million set in September 2021, a month before the FTM token price hit an ATH of $3.46.
FTM has been one of the best performing coins over the past few months as investors bet on Layer 1 project tokens. Layer 1 is a native blockchain protocol like Fantom or Solana that aims to replace Ethereum.
Fantom was the third largest decentralized financial ecosystem by value locked over the weekend. It started 2022 at #8 on the chart and has since climbed to #3 amid increased developer activity and growing user interest in products built on Fantom.
DeFi includes financial services such as trading, lending, and borrowing based on smart contracts instead of third-party providers. As of Monday, over $12.2 billion in locked value (TVL) is active in 129 DeFi applications on Fantom.
Why is the number of transactions increasing?
Analysts say that newer products and high-yielding bonuses are driving the growth of the Fantom network.
"Many projects like Radial, veDAO and 0xDAO came up with the idea of ​​starting Liquidity Mining, where vampires attacked other protocols to achieve TVL. These projects have much in common with those of summer 2020," crypto research firm Delphi Digital wrote in a note Tuesday. Liquidity mining refers to users providing liquidity to DeFi apps and being rewarded for doing so.
"The 'winners' money has come to Fantom to cultivate these projects because they offer incredible returns from one-way staking," the analysts warn, suggesting the current activity has potential that may be short-lived can, because if profits fall, investors will jump to other projects that offer more returns.
For now, FTM traders are feeling lucky as the token price is one of the top gainers during the Asian hours on Tuesday, surging 24% to $2.40 in the past 24 hours. However, at the time of writing, there were a few take profit orders.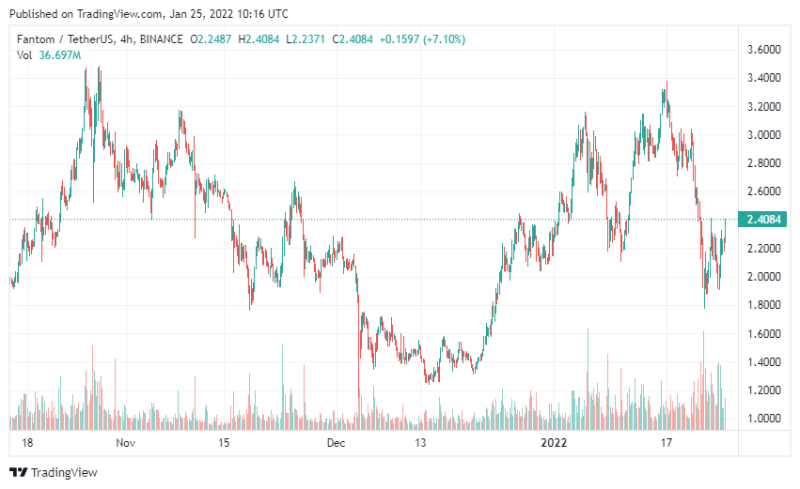 FTM 4 hour price chart | Source: Trade View
Join Bitcoin Magazine Telegram to follow news and comment on this article: https://t.me/coincunews
Minh Anh
According to FX Street
TAG: