The US has big plans for crypto amid market downturn
From an ATH of $69,000 last November, Bitcoin has now lost almost 50% of its value. We can see that the market is volatile and the acceptance of the sector is undeniably at its peak.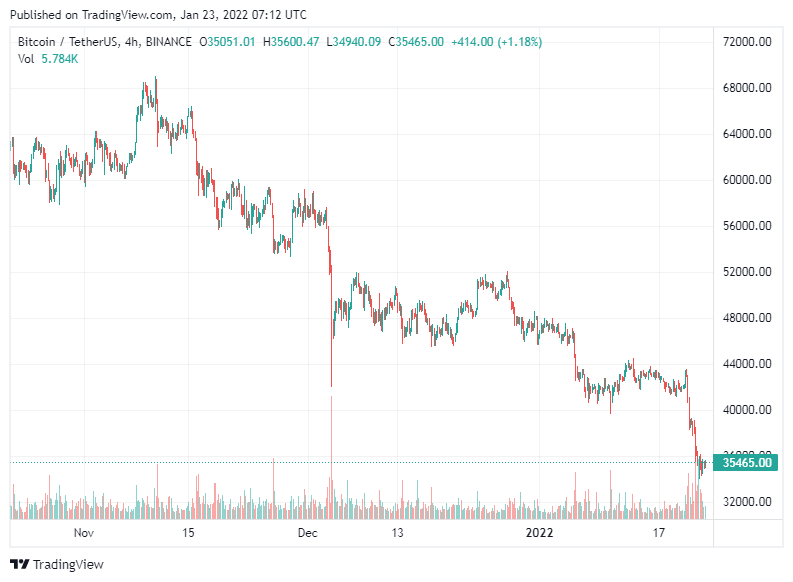 BTC/USDT | Source: Trade View
Monetary policy and regulatory environment
Many experts see the market weakness as a result of the Federal Reserve's (Fed's) liquidity drain. However, fears of regulations hampering the industry have also escalated.
Russia seems poised to crack down, the UK is stepping up its strict regulation with crypto ads, and the EU is concerned about the sector's mining levels. Meanwhile, the United States engaged in a heated debate over what constitutes a "security" in relation to tokens, culminating in the Ripple vs. SEC lawsuit.
Against this background, the Biden administration is to prepare a comprehensive strategy for digital assets.
According to sources, an initial publication outlining the risks and opportunities in the industry is set to be released in February 2022. If so, the crypto-related executive order would put President Biden and his administration in the spotlight in this area.
The document is based, among others, on some preliminary and incomplete guidance from the Securities and Exchange Commission, the Commodity Commission and the CFTC and the US Treasury Department.
Recently, SEC Chairman Gary Gensler noted that the agency will monitor crypto exchanges more closely and focus on bringing the sector into the "investor protection" category. It's worth noting that we just saw the regulator reject two more physically-backed Bitcoin exchange-traded funds (ETFs).
Comprehensive guide?
The report notes that subsequent drafts of the upcoming release will outline "economic, regulatory and national security challenges" in the cryptocurrency sector.
The policy is under review by other agencies such as the Financial Stability Oversight Council and the US Department of Commerce. With that, the report mentions the possibility of a US CBDC being implemented.
Just recently, the Fed said in its preliminary report:
"The introduction of CBDC is an innovation with huge implications for US currency."
While the central bank remains open to CBDCs going forward, the Fed has until May 20, 2022 to make public comments on the report.
TAG: