Cheap chicken imports inhibit domestic products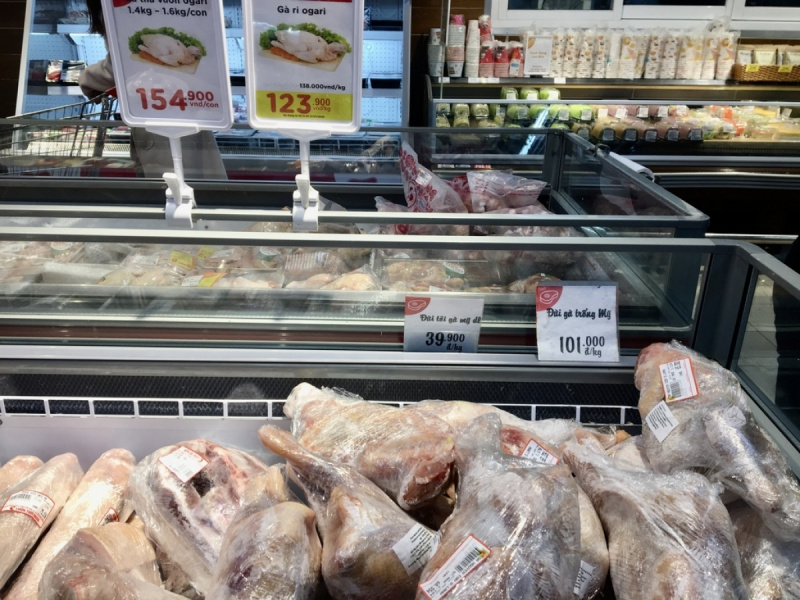 According to the Vietnam Poultry Association, the nation imported approximately 180,000 tonnes of chicken and over 3.4 million live poultry last year at cheap prices.
Most notably, the largest chicken import volume came from countries such as the United States, the Republic of Korea, the Netherlands, Poland, and Brazil.
This has seen supermarkets sell imported frozen chicken at between 30% and 40% cheaper compared to Vietnamese chicken. Indeed, the average import price hovered at around VND40,000 per kilo, while domestically-farmed chicken ranged between VND105,900 and VND154,000 per kilo.
According to some traders, domestic breeders are facing increasing difficulties after suffering huge losses, running out of capital sources, and being subject to fierce competition from both domestic and foreign markets.
Nguyen Thanh Son, chairman of the Vietnam Poultry Association, described that although the poultry industry has enjoyed robust growth of between 18% and 20% last year, the price of chicken and some other poultry meat remains low.
He therefore attributed these cheap prices to the impact of the novel coronavirus (COVID-19) epidemic which has forced farming households to switch to raise chickens, therefore leading to a rapid increase in domestic supplies.
Furthermore, increasing quantities of chicken imports have caused the supply source of chicken to exceed total demand. In addition, the flooding of Chinese chickens into the Vietnamese market through unofficial channels has also negatively impacted the domestic market.
Son outlined that moving forward the domestic livestock industry can be viewed as the sector most heavily affected by the nation joining several free trade agreements (FTAs), especially new-generation FTAs such as the EU-Vietnam Free Trade Agreement (EVFTA) and the Comprehensive and Progressive Agreement for Trans-Pacific Partnership (CPTPP).
In line with the tariff reduction roadmap, duties placed on imported poultry meat will gradually be decreased and slashed to 0% after between seven and 10 years, a factor which has forced the domestic livestock sector to face tougher competition from cheap imported poultry.
Moreover, Son underlined the need to lower the cost of domestic meat products and put up proper technical barriers in accordance with international practices as a means of protecting domestic poultry production.
Source: VOV
english.vov.vn
TAG: