Hai Van 2 Road Tunnel opens to traffic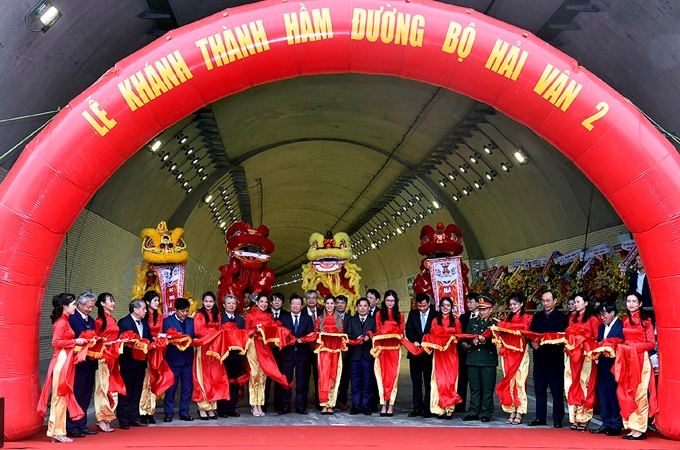 Ribbon cutting to inaugurate the Hai Van 2 Road Tunnel. (Photo: CPV)
On January 11, Deputy Prime Minister (PM) Trinh Dinh Dung attended the inauguration ceremony of the Hai Van 2 road tunnel.
In his speech at the event, the Deputy PM affirmed that the synchronous development of transport infrastructure is both a goal and a major policy of the Party and State during the period of promoting national industrialization and modernization.
He stressed that the Hai Van Pass route is a very important road on Highway 1, the North-South route, linking Thua Thien – Hue province with Da Nang city.
The project expanding the Hai Van road tunnel was approved by the Ministry of Transport in 2016, with a total investment of over 7.2 trillion VND (310.8 million USD). The first stage repaired and upgraded the existing Hai Van Tunnel 1 and improved a section of National Highway No 1 over Hai Van Pass.
The second stage widened the service tunnel used for excavation of the first tunnel into the four-lane, 6.2-km Hai Van Tunnel 2.
Construction concluded last September, three months earlier than planned, and will ease congestion in Hai Van Tunnel 1. It will also shorten travel time and improve the efficiency of goods and passenger transport.
He stressed that the project, which was completed at the beginning of 2021, is a very precious "gift" to welcome the 13th National Party Congress and the Lunar New Year./.
BTA
TAG: