Preventing and combating gambling, virtual money … via bank cards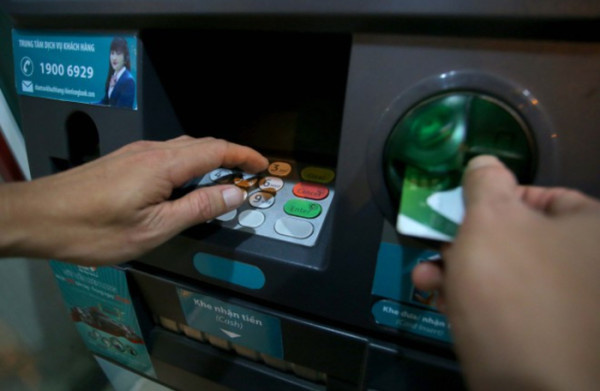 Especially card transactions related to prize-winning games, gambling, gambling, foreign exchange, virtual money, electronic money.
Control suspicious transactions
The Governor of the State Bank of Vietnam (SBV) has issued Directive 02 to require affiliates of the State Bank, card issuers, card payment organizations, intermediary payment service providers and representative offices. International card organizations supervise and control banking card operations, in which special attention is paid to the identification and verification of information of customers and merchants.
Organizing and coordinating units to monitor, check and review card transactions arising at merchants to prevent the use of credit card limit to transfer money and credit to payment accounts. , debit or prepaid cards of customers or third parties (other than merchants), as well as short payment transactions at merchants (no purchase and sale of goods and supplies services) for the purpose of cash withdrawals, card transactions not in accordance with the law relating to gambling, gambling, gambling, foreign exchange, securities, virtual money, electricity death.
With regard to cash withdrawal from a credit card, there are regulations but there is no detection tool, so it is difficult to detect when the merchant and the card holder collude with each other. To mitigate this situation, there is only a way to reduce the cash withdrawal fee at ATMs so that transactions can be made through mainstream ATMs.
Lawyer Truong Thanh Duc
For the detection of cross-border gambling payments, the representative of Sacombank said that online transactions of banks do not provide gateway payment services with gambling organizations; As for transactions via POS machines, the bank previously monitored transaction sales to see if there were any abnormalities. Illegal transaction monitoring activities have not been carried out until now, but are regular work of banks, at the same time actively sharing and exchanging information between card issuers and payment institutions cards in order to promptly detect suspicious transactions; recommends and warns customers, providers of intermediary payment services, merchants not to use or to create conditions for other objects to take advantage of the use of payment accounts, bank cards to enter illegal purposes, such as leasing, lending payment accounts, buying, selling, renting, leasing cards or card information, opening card for …
Keep track of bank transfer
In fact, the easy form of cross-border payments via international cards is a hole that is difficult to control. Mr. Nguyen Hoang (Hanoi) said: "For many years, we have used Paypal e-wallet to receive and transfer money from abroad. Having transactions from a few hundred to several thousand dollars via this e-wallet is also quite simple without any fuss. To open this wallet, users must have international cards such as Visa, Mastercard … ".
Paypal is a digital payment platform established in the US, present in 200 markets around the world with 325 million account holders. Paypal allows consumers and merchants to receive more than 100 currencies, withdraw money in 56 currencies and keep a balance in the account in 25 currencies. Foreign currency conversion fee is from 3 – 4%, in case of transferring money from e-wallet to bank account opened in Vietnam, it will cost 60,000 VND.
Signing up for a Paypal e-wallet account is quite simple when this website has Vietnamese support and just needs to fill in basic information such as email address, phone number, international payment card, address … In addition to Paypal, there are some other online money transfer sites such as Perfect money, Webmoney, Payoneer …
For gambling and online betting activities, most of them accept payments via domestic bank accounts. According to the instructions on the OXBET betting site, after registering an account, players can top up by many methods such as via NH (InternetBanking, ATM, NH), top-up scratch card, e-wallet (MoMo), Paywin. Withdrawals are also made via the above methods.
Besides money transfer, withdrawals from credit cards via POS machines at the end of the year are also more active. The act of using credit cards to withdraw money via POS machines has been banned for many years but still exists because thanks to this method, the cardholder has an immediate amount of cash with a lower fee than withdrawn at ATMs and is exempt from interest rates within. 45 days.
Talking over the phone, Mr. Tran Khoa (a provider of POS cash withdrawal services in Ho Chi Minh City) said the limit of the customer's credit card, the more the service will be allowed to withdraw. With a Visa credit card withdrawing the limit of 100 million VND, there is a fee of 2.2%, down from 2.5% previously.
Mr. Truong Thanh Duc, Chairman of the Board of Members of Basico Law Firm, analyzed according to the Ordinance on Foreign Exchange, all payment and money transfer transactions for current transactions of residents and non-residents. Vietnamese territory is free to implement and must comply with the provisions of the law.
Therefore, money transfer abroad, even gambling can be done. Banks have regulations to report suspicious transactions and automatically report for transactions that exceed the limit or have unusual signs.
However, suspicious transactions are only statistically and reported and not allowed to be prevented. The prevention is only in cases where individuals go to the bank clearly stating the transfer of gambling money, buying virtual money …
Particularly, transferring money to foreign e-wallets and buying goods and services abroad, according to Mr. Duc, transactions are kept on the account, so the problem is whether the authorities handle it or not. there are irregularities.
Source: vietnamfinance.vn – Translated by fintel.vn
TAG: