Ho Chi Minh city focuses on developing "night economy" product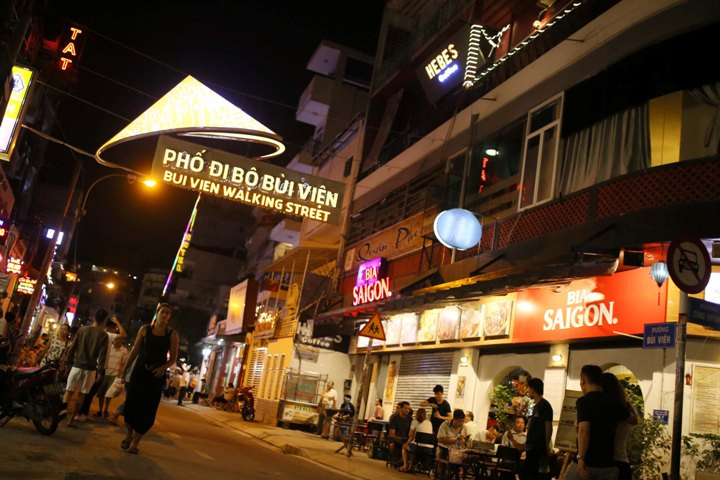 Bui Vien walking street. (Photo: chinhphu.gov.vn)
According to the city Department of Tourism, in 2020, the department coordinated with the Department of Culture-Sports; agencies, units and People's Committees of districts to build and exploit existing products associated with the night economy in the city, mainly 3 product groups.
Specifically, tourism products associated with discovering urban community culture at night are Bui Vien and Nguyen Hue pedestrian streets. In 2020, the People's Committee of districts built and opened pedestrian zones in combination with shopping and cuisine such as Ky Dai Quang Trung walking street in District 10, night market and walking street at Dam Sen Cultural Park in District 11 and Hoa Binh Water Music Square in Go Vap district.
Together with pedestrian streets, some other specialized streets attract many tourists such as food street; oriental medicine street; gold, silver, jewelry; and lantern street.
In 2019, the city tourism industry contributed 6.2 billion USD to GRDP. According to the scenario projected for 2025, total revenue of the city tourism industry will reach 14.1 billion US, accounting for 14% of GRDP. According to the survey on night tourism, domestic tourists contributed 15% to GDP of the city tourism industry while foreigners only contributed 5%.
In the field of waterway tourism, tourist routes on Saigon River and Nhieu Loc Canal at night have been exploited and are favored by tourists.
Regarding art shows, together with walking street space of Nguyen Hue, Bui Vien, and specialized night-time streets, tourists can also enjoy art programs such as water puppetry, theater, music, and cinema./.
BTA
TAG: